Posted by Hockey Joe on October 27th, 2009 |
1 comment
In just a matter of days Colin Campbell's idiotic Wheel of Justice has gotten enough of a workout to make even the most veteran spinner of the wheel tired and it seems that there's a definitive line in the sand being drawn over who or what will get you actually punished by the NHL.
First there was all the stuff we talked about here before about Mike Richards and Tuomo Ruutu, then in the last couple of days Dallas Stars sandpaper-like forward decided it was high time he got back into the act of being a huge creep and managed to do so twice in the same game against St. Louis.  First with a highly dubious low-bridge hip check on Carlo Colaiacovo then later on with a hide-your-eyes ugly knee-on-knee hit with B.J. Crombeen.
Just brutal.
Dallas Stars fans and St. Louis Blues fans alike have come to verbal blows over at St. Louis Game Time while the guys at Defending Big D take the opposing stand and, frankly, I can't blame Blues fans for being pissed because Steve Ott is your run of the mill talented forward that gets his jollies being an asshole. Now take what you saw in Ott's hit on Colaiacovo and now soak in what you see from Los Angeles Kings defenseman Rob Scuderi with his hit on Columbus' Jason Chimera.
Again, really nasty business and an unneeded low blow of a hip check and this goes for Steve Ott as well. There's no need to get that low on a player you're looking to stop. None at all and the only reason you're doing it is because you're being a dick. Ott's a dick and Scuderi, this one time, is also a dick.
That is, not completely… At least in the eyes of Colin Campbell. Rob Scuderi has already been let off for previous good behavior and received a fine for his hit. Meanwhile, Steve Ott will have a telephone hearing with Colin and the Wheel of Justice to determine how long he'll be suspended for as the league is looking into his hit on Colaiacovo and not the hit on Crombeen.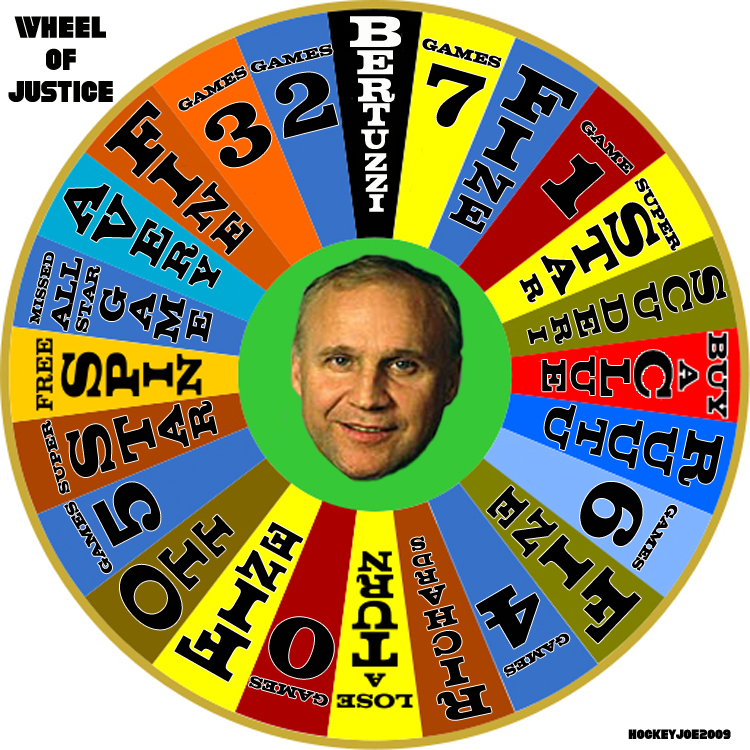 Far be it from me to try and figure out where, exactly, any of that makes sense because it doesn't, but I'd like to think that Campbell will at least mention in passing the Crombeen hit because that's about as dirty as it gets. He leaves his leg out there while Crombeen skates by and there's absolutely ZERO doubt in my mind that Ott was looking to injure him.
With all of that said…
What in the blue hell is it going to take for there to be any modicum of consistency out of Colin Campbell's game show studio of an office when it comes to dangerous hits in the game?  Mike Richards gets no suspension for his hit on David Booth.  Tuomo Ruutu gets a three game suspension for his dirty play on noted scumbag Darcy Tucker.  Rob Scuderi gets a fine for his low bridge action on Jason Chimera even in spite of Scuderi having a relatively clean record and now Steve Ott is going to see some sort of action taken against him.  I'd like to assume it's going to be a suspension but you just don't know what the Wheel of Justice will turn out.
It shouldn't be like pulling teeth to get some kind of ground rules set for punishment in this run-by-ninnies league.  Every other league seemingly has their act together and manages to avoid having the smokey room discussions about what to do when their players run afoul of the rules but not the NHL.  One man's knee-on-knee hit is another man's sloppy seconds.
There's zero consistency from the officials on the ice and there's absolutely zero consistency or accountability from the officials in their offices in Manhattan.  The league is gutless for not trying to set any sort of measuring stick for even the most basic of offenses and apparently doles out suspensions based on some hazy measurement of what a player has done in the past.  It's time to keep track of these things and keep the fans in the know where everyone stands.  After all, if we all know who the scumbags are and what the dirty hits look like, what the hell is the purpose of paying Colin Campbell too much money to be really terrible at his job when any of us common-folk could do just as good if not better than he can from our couch.
This friggin' league…
(UPDATE:  Steve Ott suspended two games courtesy of the ever fickle Wheel of Justice)