Posted by Hockey Joe on November 17th, 2009 |
0 comments
Aaron Portzline from the Columbus Dispatch dropped a (predictable) bomb on Blue Jackets fans and curious NHL onlookers tonight revealing that young and über-talented Russian forward Nikita Filatov is working out an agreement to head back to Russia.
Jackets general manager Scott Howson would not comment on a potential agreement allowing the 19-year-old Filatov to return to his former club team, CSKA Moscow. Nothing has been finalized, however, and Filatov and the Blue Jackets are expected to talk again today about the possibility of staying in Columbus.
To say this has been a bit of an ugly situation in Columbus would be downplaying things a bit.  Filatov has been unhappy with his ice time this year and he's been a healthy scratch more often than not lately.  When he has been in the lineup for the BJs, Filatov has averaged a little over 8 minutes a game and has played with the fourth line.  That's no way to treat a highly touted, highly talented 19 year-old future star.
Filatov made it known in the off-season that his plans were to stay in Columbus all year and get things done in the NHL at the age of 19.  From that interview with Puck Daddy's Dmitry Chesnokov, a couple of things stand out:
I have been working very hard this summer. Nothing should stand in the way of me getting into the NHL. Ideally, I have to break into the second line where there is more ice time; you play more on special teams.
And this:
What is holding you in America?

When I was 18 I made a decision to play in the NHL. This decision did not come easy. But what is the point of backing off now? It would make more sense if I didn't play well. But everything is going good for me right now across the ocean.
If he's heading off to Russia, things have changed dramatically with Filatov and it's head coach Ken Hitchcock that has to be the focus of everything here.  Filatov, to say the least, is a natural born scorer and a guy whom the word "defense" will never apply to, at least at his age now.  That won't (and hasn't) sit well with the uptight Hitchcock who wants his team to play a lockdown brand of hockey ripe with back-checking and grinding galore.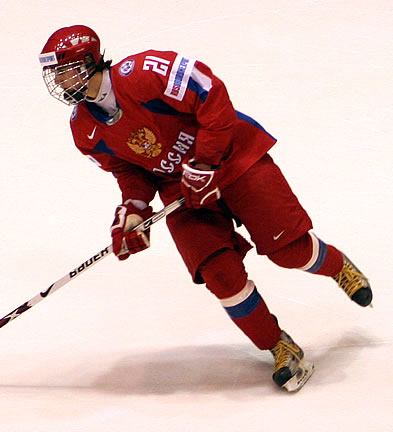 Nikita Filatov in a Russian uniform.  Get used to it.
Filatov is a sniper, a dangler, a goalie faker.  He was drafted two years ago (6th overall 2008 NHL Draft) for his sheer offensive ability and talents, something Columbus was severely lacking in their system but now the team, with Hitchcock's ideal lineup in there is off to the best start in franchise history and Filatov basically hasn't had a hand in any of that whatsoever and his growth is being stunted because of it.
Sending him back to Syracuse to play wouldn't do any good because he's already proven his talent is being wasted after racking up 32 points (16 goals, 16 assists) in 39 games there last year.  What more does he have to prove to the Blue Jackets?  According to what some folks around the team are saying, Ken Hitchcock isn't satisfied with that.  Just a few weeks ago, Hitchcock had this to say about Filatov's game:
"I don't think Filatov's game is going to be awake for a long time. He's in that adjustment phase right now, that survival phase.  He did his job when he got back in the lineup in Edmonton. That's why he played again Saturday (in Anaheim).  All the things we wanted him to do to be an NHL player, he's tried like crazy to do them. He's in the lineup now, so hopefully we're off and running."
Apparently he is off and running… Back home to Russia where he can play more than eight minutes a game with guys who might be better than Jared Boll and Mike Blunden (ed. note: Who the fuck is Mike Blunden?).  OK so after looking at the translated CSKA Moscow roster, perhaps playing at home for more ice time is a better draw than the teammates.  Maybe Filatov got to be a big fan of Mark Hartigan's while playing in the AHL.  Whatever.
The key here is that yet another highly talented offensive Russian first-round pick of the Blue Jackets is now ready to get the hell out of the NHL (Nikolai Zherdev being the first) and while a lot people seem to agree that Filatov is both mentally stronger and more talented than Zherdev, it's a bit surprising (and disturbing) that one organization has screwed the pooch twice with how to handle a talented Russian forward.
While blame can be assigned to both Zherdev and Columbus management equally and finger-pointing can go on forever for that situation and failure, the case with Filatov can be thrown squarely on Ken Hitchcock for why Filatov has been buried and now, apparently, frustrated off to Russia.  Hitchcock is firmly a part of the "No fun police" as far as offensive talent goes.  His teams are classically boring even in spite of often having supreme top-end talent All you have to do is look back to Mike Modano and Brett Hull in Dallas, Jeremy Roenick and Simon Gagne in Philadelphia and now Rick Nash in Columbus.  His teams in all three places are loaded with grinders and they forecheck and trap in a suffocating way, so having a naturally offensively talented dangler isn't an optimum piece of the puzzle – especially one that just wants to fire shots on the net.
Handling older veterans is one thing, but trying to hammer it home to a young kid that shooting and scoring all the time isn't what the game is all about… Well, you can see how that would get to be very frustrating, especially when the team drafted you to do just that.
Filatov is going to be a dynamic scorer in the NHL but he's got to be on the right team to make it happen and right now with everything clicking well enough for Columbus and the brand of hockey they want to play, it's pretty clear that Filatov isn't in Hitchcock's plans, something that doesn't sit well with Columbus' general manager Scott Howson doesn't like at all.  I mean he did draft him and he knows what kind of player he can be in the league and he doesn't want to just give him away to another team and be haunted into unemployment because of it.  Howson also doesn't want the player getting eternally frustrated at the coach and organization and vow to never play for them ever again.
At least there's this whole peaceful KHL/NHL situation where they've got a great working agreement to loan players to one another.  Oh, right… I forgot that exists only in Bizarro World where Herr Bettman is a brilliant leader and the NHL is the most beloved sports product in the world and provides the greatest financial system for all professional sports across the land.
My bad.
If Filatov does go to Russia, you can bank on it that he's going to stay there until he's either traded, Ken Hitchcock is out of a job or until his entry level deal ends after the 2011-2012 season… After which there might be another sport-crippling lockout and everyone plays in Europe instead anyway.  At least that last possibility won't be nearly as much of a disaster to watch as the movie 2012.
We'll get to know more about what, exactly, is going on here soon and keeping your eyes peeled on Yahoo's Puck Daddy will be recommended as resident Russian go-to-guy Dmitry Chesnokov will be on the case and he's stated he's already gotten in touch with Filatov.  What I expect to hear is that he's beyond frustrated and he wants to play and getting the hell out of Columbus offers him the best and most enjoyable set of circumstances.
Meanwhile, the Blue Jackets would rather he either stick it out in the NHL and learn the hard way or go back to Syracuse to skate circles around the competition.  If those are the options he goes with, the Blue Jackets run the risk of driving Filatov crazy and filling him with resentment and then they've got an immensely talented player that no longer wants to play for them and can't wait to get the hell out of town.
While the Blue Jackets might be winning, they have to be careful here because this could turn into a lose/lose situation for the organization.   They'll lose out on a great talent and they'll also salt the earth for future young Russian players they may be interested in.  If the Blue Jackets want to truly be thinking long-term in regard to Nikita Filatov, they'd best be thinking long term about the future of the team as well.
UPDATE:
It's now official, Nikita Filatov is headed back to Russia to play the rest of the season out, and like I told you kids, Dmitry Chesnokov is all over it getting the first interview with him at Puck Daddy.  I won't pull out all of Filatov's quotes and over-analyze them but I'll yank out this set because it strikes me as amazing.
What did the club management tell you when you told them of your decision and your reasons for it?

They told me that they completely share my point of view. They also told me that in the current situation it is actually better for me to go back.
If things go sour with Columbus this year and they find a way to miss out on the playoffs, you better believe that GM Scott Howson will have more than enough ammunition to use against Hitchcock just based around this situation with Filatov.