Posted by Hockey Joe on January 22nd, 2010 |
3 comments
Six weeks ago, the RPI hockey team last played a home game.  A month and a half away from the friendly confines of Houston Field House sounds a bit insane except when you consider that those six weeks all come when the students at RPI are on winter break it doesn't sound so bad.  After all, home games without the bulk of your vocal home crowd suck ferociously.
For fans of the team that are only aware of the team while they're at home, a few things happened.  They beat perennial powers (albeit ones in a down year) Boston University and University of Michigan in front of their home fans.  They swept a road weekend conference series at Quinnipiac and Princeton, a feat that hasn't been accomplished since 2007. They were also humbled by a very tough Michigan State team to lose the championship of the Great Lakes Invitational and also dropped their final meeting with Union College over in Schenectady.
The loss to Union has some folks up in arms because it's Union College and they're a local rival and  because head coach Seth Appert was quoted after the game saying this:
"I refuse to believe that they're better than us. I believe in our guys, I have a lot of belief in that locker room, what we have in there. I have a lot of respect for Union. I think they're a really good hockey team. I think they're a Top 10 hockey team. But I don't believe they're better than us."
Cocky words?  Not at all.  After all, each game with Union was decided by one goal this season (Union scoring an empty-net goal in the final game notwithstanding) and Appert did go on to heap a ton of credit on the Union program saying, "They've earned where they are.  Don't get me wrong by what I say in terms of that question. They're in first place in the league and they've earned every minute of that."
Obviously Seth Appert wasn't going rogue on anyone and his faith in his own team is quite clear where it stands.  Unlike teams in RPIs recent history, this year's team hasn't shown the penchant for fading and letting teams dominate them on the scoreboard like they used to.  However, for this team to spend six weeks away from the friendly confines and play six games and come away with a 4-2-0 record in that span against a handful of difficult opponents in very difficult settings is saying a lot for this team.
In more than a few games this year, situations have arisen where previous Engineers teams would fold up the tents instantly.  The game again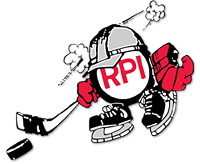 st Michigan sticks out as a prime example.  It was a game where they were ahead, some shady calls are made against them and Michigan storms back to tie the game and then things hang in the balance.  If that game happens even a season ago, RPI cracks and gives up two more goals to end that game and lose.  Instead, Marty O'Grady says, "Screw this," and scores on an impossibly accurate snap shot to put RPI up for good in a 4-3 win.  RPI played this exact type of game two seasons ago against the Minnesota Golden Gophers and lost in front of a huge and largely Gopher-biased crowd.  Things change and things are certainly different for this RPI team.  Now they're back at home and back on the hardcore ECAC schedule the rest of the way.  This weekend they see a couple of teams who in seasons past have been in the upper-middle part of the pack and still lurk as dangerous.
Dartmouth College comes to town not having seen RPI since the Engineers unceremoniously disposed of the sixth seeded Big Green in the ECAC Tournament last year and if you think revenge isn't on their mind, you're crazy.  The downside for Dartmouth is they're just not very good this year.  They're severely lacking scoring and even more severely lacking good goaltending.  Juniors Scott Fleming and Adam Estoclet lead Dartmouth in scoring with 15 points each and Fleming is the team's leading goal scorer with eight.  Only two other players on the team are in double-digits in points and their main goaltender, Jody O'Neill, has a save percentage lingering around .890 and a 3.79 goals against average.
This does not bode well for the Big Green against RPI who sits as one of the highest scoring teams in the ECAC averaging 3.10 goals per game in conference matchups while allowing  just 2.40

goals against.  Dartmouth, on the other hand, has been scoring 2.60 per game while allowing 3.60 per.  Dartmouth, in this case, is going to have to turn the tables on RPI the way the Engineers did to them in last year's playoffs.  The Big Green stumble into this game losers of seven of their last eight and winners of four games all season.
As for RPI's opponent Saturday afternoon, the Harvard Crimson, there's reason to believe that perhaps the ship is finally being righted in Cambridge.  After an uncharacteristic and abysmal start to the season where after opening their season with a win over Dartmouth Harvard went winless in their next ten games going 0-8-2 in those ten.  Since then, they've won three of their last five games including a win over #6 Yale.  Their two losses in that span came on the road against Minnesota so those can almost be excused since Minnesota is certainly the better team. Harvard's gotten wins against Quinnipiac and Dartmouth (again) in that time and considering the Crimson were a team many believed would battle in the top half of the ECAC this would seem to indicate they're getting their act together.
Harvard's success has come at the hands of freshman and Montreal Canadiens first round pick Louis Leblanc.  Leblanc and his linemates Michael Biega and Maple Leafs Lightning draftee Alex Killorn have been the one sure thing, scoring-wise, head coach Ted Donato can count on.  Those three players are the Crimson's three top scorers and Leblanc, of late, has been scoring goals in bunches while finally showing off the talent that made him the Habs top choice in 2009 (aside from being French-Canadian that is).
In goal is where things have gone a bit astray for Harvard.  Junior Kyle Richter returned after a one year absence to attend to "personal matters" and he's been less-than stellar.  Meanwhile, junior Ryan Carroll has stepped up and provided some sense of sanity of late backstopping the team to their last two wins over Yale and Dartmouth.  In about half as many games as Richter has played, Carroll's goals against is almost a full goal lower than Richter's and he's sporting a slightly

better save percentage.  While I'm not sure Coach Donato wants to totally write off Kyle Richter, I'd bet that Ryan Carroll will get the nod this weekend for Harvard.
For as innocent as an RPI-Harvard might seem to be, all is not as indifferent as it might appear.  For instance, one thing RPI is going to have to look out for against the Crimson is the antics of the flying Biega brothers.  Whether its senior Alex Biega, junior Michael Biega or the latest addition, freshman Danny Biega the Engineers and Crimson seem to get together in scrummy fashion when it comes to them.   It all starts with the sandpaper-like play of defenseman Alex who is no stranger to the RPI crowd and he's usually good for a skirmish or five over the course of a game. Adding in the very talented Michael Biega and his ability to get on the board, that automatically makes him disliked on the road.  It'll be interesting to see which big brother Danny plays more like.
This game also offers RPI fans the opportunity to once again boo and mock junior defenseman Chris Huxley.  Four years ago, Huxley initially committed to play at RPI but then jumped ship when then head coach Dan Fridgen was not retained by RPI.  Through semi-shady dealings Huxley ended up reneging on his RPI commitment to go to Harvard, something which RPI fans have not forgotten about because each time Huxley touches the puck in Troy he's booed by the faithful and even given an obvious last-name based nickname.  If you can't figure out what it is, I'm not going to help you.
The RPI Bedwetter Fan View Of The weekend:
"The Friday night game against Dartmouth lingers as a possible "Superman" game where Jody O'Neill has the game of his life and RPI is stuck looking for answers against a goalie that has the horseshoe firmly implanted in his rectum.  The Saturday afternoon tilt against Harvard sits like a trap game.  Harvard is a team that's wildly down this year but playing better of late and RPI will find it hard to match up with Leblanc's line.  Allen York will give up some softies and RPI still won't get anything done 5-on-5.  I haven't been happy since 1985."
The Right Way To Look At The Weekend:
RPI should roll Dartmouth and the Big Green's porous goaltending should do their part to help solve any questions about their play at even strength.  I've got the feeling the game with Harvard is going to be a one goal semi-classic type of game.  Maybe I'm giving Harvard too much credit here, but there's too much talent all over that team for them to keep losing games all year long.  That said, a solid game out of Allen York and Harvard doesn't stand a chance.
Listen to this weekend's games on WRPI online. 6:45pm Friday, 3:45pm Saturday.