Posted by Joe Yerdon on February 26th, 2010 |
3 comments
I am by no means an AHL blogger nor much of an AHL fan, but when stories about the local team come to rise, I can't help it I get involved and have to write a little bit.  This time, rather than a team departing Albany and leaving fans out in the cold, it's one coming in from elsewhere and attempting to do their part to fill up the Times Union Center.
While Times Union Center general manager Bob Belber has been playing coy about which team(s) he's been in contact with about potentially moving to Albany to fill the void by the soon-to-be Charlotte Checkers, the Times Union has actually done something productive and asked some questions and gotten a few sources down to find out that it may be the Portland Pirates who will be bolting out of Maine to move a little bit closer to their parent club in Buffalo.
To quote the TU:
The Pirates managing owner, Brian Petrovek, attended a game at Times Union Center Friday. In an interview with staff writer Pete Dougherty, Petrovek would not directly discuss moving the team to Albany, but said the team is exploring options and addressed how hockey could work in the Capital Region.
At the moment, the Pirates are just one of a handful of teams who may or may not be looking to get the hell out of their current Dodge meanwhile others already have (from Springfield, MA and Albany respectively).  So what does this mean for Albany?  The TU is already asking folks for comments on their site about whether they should keep the name "River Rats" or not and that's a logical progression given the circumstances.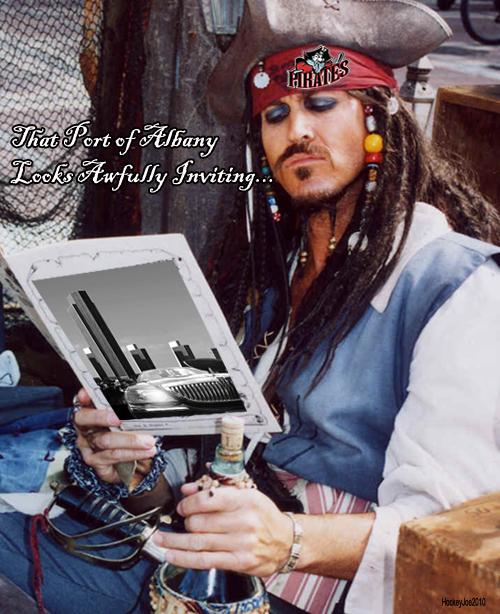 The upside to this situation is that it helps out the Adirondack Phantoms who, without an Albany team to play rivals with, would've been left alone on a virtual island in the middle of the Adirondacks with no real rival to deal with.  Travis over at Broad Street Hockey looked into this a couple weeks ago and came up with some keen observations.
Long term, though, a strong rivalry with a team in Albany is a major player in hockey succeeding in Glens Falls. The current incarnation of hockey there isn't expected to last longer than the next couple of years, as the ownership is on record saying that the ultimate goal is to get an arena built in Allentown, PA.
Obviously that sounds ominous but that's been the goal all along when it's come to the Phantoms in Glens Falls.  Don't act shocked here folks.  As Travis states in his piece, there's the possibility that there'll be a boost for the Phantoms without a team in Albany, but when you look at the Phantoms attendance numbers this year, there's not a whole lot more they can do, the team is doing great in Glens Falls.
If there's no local rivalry to spice things up, you'd have to worry about the potential adverse effect it would have on the Phantoms.  If things go bad, Phantoms ownership wouldn't wait a moment to just pull the plug and wait for their arena to materialize in Allentown, Pennsylvania so there's certainly something at stake here for the people in Glens Falls.
As for the situation in Albany, the better way to look at things is how could this possibly seem like a great situation for the Pirates franchise.  Portland averages a little over 4,100 fans per game in Maine and the River Rats haven't averaged that many fans in a few years (05-06 they averaged just over 4,000 per game).  Is Pirates management that unhappy with the situation in Maine or is it just a case of doing the bidding of the parent organization at play here?  I'd suspect the latter is the case here.
A few hundred fans does make a bit of a difference  but what is likely being banked on here is the allure of having an actual New York State team being the parent club. This move will bring a few more fans out to the arena in Albany so that effect can't be discounted. After all, the River Rats were the farm team for the not-so local Devils for years and the really not local Hurricanes for the past few and if you can find a tried and true Hurricanes fan here in Albany I'd like to meet them. I know Devils fans exist in this area for sure now and that has everything to do with the success of the Rats early on as well as the excellent players who have at one time called Albany home. That's the expected and natural effect of having a farm team in another area and that's why this move would make 1,000 kinds of sense for the Sabres/Pirates.
The Sabres already have an established fanbase here and a lot of that is due to them having a sweet cable deal with the Madison Square Garden network that airs a hefty number of Sabres games in the Albany area, sometimes booting the Rangers (and Devils and Islanders as well) off of their own network in most of upstate New York.  For the Sabres it's created a new set of fans across upstate New York mainly thanks to the inabilities of the Rangers and Islanders (and occasionally the Devils) to hold new fans interests. Moving the farm team of the Sabres to Albany, right in the heart of the newly created Sabres viewership, could provide an unexpected boon to the potential Albany franchise, something I'm sure Bob Belber at the Times Union Center has been sure to mention a few times to Pirates GM Brian Petrovek.