Posted by Hockey Joe on March 24th, 2010 |
2 comments
Fans get confused when the term "March Madness" gets thrown around. I'm sure most of you attribute it to the NCAA basketball tournament and that's fine and all but the last few years it's applied more to the NCAA hockey tournament than anything else.
Back in 2003 when the NCAA expanded the hockey tournament to 16 teams and allowing a traditional bracket presentation to four regional sites (as opposed to the old 12 team format with the top seed in each region getting a bye), it seemed that the this format was made to allow the top seeds a game to warm up against a weak sister opponent.  In 2003, 2004 and 2005 no top seed lost their first round game against one of the bottom 12 teams in the field.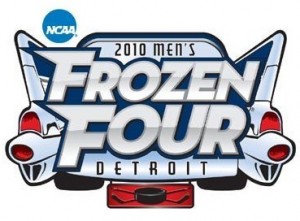 When 2006 rolled around it appeared as though things would continue along that same path… That is until Holy Cross shocked the college hockey world by beating the Minnesota Golden Gophers in the first round of the West Regional in Grand Forks, North Dakota 4-3. Holy Cross' win set off shockwaves as the Gophers are (or rather were) traditionally a tough out of the tournament and here they were getting bounced out of the tourney on hostile ice (no, that's not a Sioux joke) and ensuring that North Dakota would always hold a soft spot in the hearts of Sioux fans everywhere.  Was it a fluke win for a team that just played the perfect game? A lot of folks believed that was the case but…
In 2007, two top seeds bit it in the first round as Clarkson was upended by Massachusetts 1-0 in the East Regional and Miami University took out New Hampshire 2-1 in Manchester, NH of all places.  Top seeded Notre Dame needed two overtimes to finally oust Alabama-Huntsville in their 1 vs. 4 game.  Perhaps parity was coming to college hockey after seeing a lot of the familiar names consistently floating to the top year after year.
2008 seemed to turn a hose on those thoughts as one top seed found their way out of the tournament, New Hampshire getting blown out by Notre Dame 7-3 in the West Regional meanwhile top seeds Michigan and North Dakota stormed their way to the Frozen Four while 2 seed Boston College knocked off 1 seed Miami in the regional final en route to winning the National Championship. Order restored, right?  Not quite.
2009's NCAA hockey tournament went down in the books as the one where top seeds went to die.  Notre Dame, Michigan and Denver were all upset in the opening round of the tournament.  The Fighting Irish were taken out by the buzzsaw that was Bemidji State, Denver was ousted by co-buzzsaw Miami University and Michigan was shutout by Air Force.  Miami and Bemidji State both advanced to the Frozen Four and Miami moved on to the Finals where they gave the final top seed of the tournament, Boston University, all they could handle in the National Championship game before surrendering a two-goal lead in the final minutes of the game and then losing in overtime to give the Terriers the championship.
Two four seeds, a three seed and a one seed in the Frozen Four.  It still boggles the mind to think and know that this happened and turned out one of the best tournaments of all time and easily the most exciting one of the 16 team format.  So that leaves the question, can some kind of alchemy be thrown together to make things happen in 2010 the way they did in 2009?  It very well could happen. Taking a look at the top seeds around the tournament, there's a handful of them who come in with glaring issues.
The top team in the East Region, Denver University, limps into the NCAAs after losing both of their games at the WCHA Final Five.  Denver has a boatload of talent, including two Hobey Baker Award nominees in senior forward Rhett Rakhshani (Islanders draftee) and junior goaltender Marc Cheverie (Panthers draftee).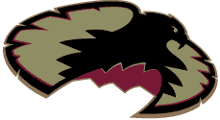 Denver's seeming disinterest in playing North Dakota and Wisconsin in the Final Five was a bit alarming, although they did have a top seed in the tournament locked up.  Were they too busy looking ahead to the tournament or is there actual reason to worry if you're a Pioneers fan?  Tough to say, but if they don't come out on fire in their opening round game against R.I.T. they could be in for a world of frustration.
For R.I.T. it's their first appearance in the NCAA Tournament and head coach Wayne Wilson's Tigers will be ready to roll on Friday afternoon.  Forwards Cameron Burt and Andrew Favot carry the scoring load while Jared DeMichiel and his 2.00 goals against average will do his best to keep the Pioneers off the board.  Senior defenseman Dan Ringwald brings stability and scoring touch to the blue line while freshman Chris Tanev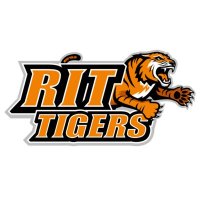 has been a revelation for the Tigers working the rearguard. R.I.T. comes into the tournament on fire after steamrolling their opponents in the Atlantic Hockey tournament and already got their wake up call in the opening round when a terrible UConn team took them to overtime in Game 1 of the quarterfinals.
Yes, I realize that Atlantic Hockey is a brutal conference as far as competition goes and yes, I also realize that R.I.T. played zero teams this year who were under consideration for the NCAA Tournament and these things work against the Tigers, but the same thing could essentially have been said about that 2006 Holy Cross team too.  Denver comes into the NCAA Tournament as the #2 overall seed while R.I.T. is 15th out of the 16 teams. The Pioneers have been sleepwalking their way through March going 3-3-0 at the time of year when you should be kicking the snot out of everyone in sight.  Facing a jacked up R.I.T. squad may not be the medicine Denver is looking for to make their run at a title.
In the Midwest Region, Miami University sits as the top seed and they above everyone else in this tourney should understand what it means to come in as a hungry fourth seed as they've pulled two upsets of their own from that position but were they ever as motivated as their opponents this year, Alabama-Huntsville, were as a four seed?  I'd have to say no.  For the UAH Chargers, this is their last go-round until they land in another conference.  As was mentioned here before the season, the CCHA turned their backs on UAH and the growth of college hockey when they denied UAH's bid to join the conference next season.
Fast forward to the College Hockey Association tournament this year, Alabama-Huntsville steals their way to the CHA tournament championship to enter the NCAAs as the only team with a losing record and, of course, get to face off
against the top team from the CCHA.  Meanwhile, the team that was upset in the CHA tournament, Bemidji State, faces the University of Michigan in the other game in the Midwest Region.
You could refer to this region as the "Roll-over Region" as some conspiracy theorists have said that Miami rolled over for Michigan in the CCHA Tournament while Bemidji rolled over for Niagara in the CHA Tournament so their four-team conference could get two teams in the NCAAs since Bemidji State already had a spot in the NCAAs as it was.  I hope you folks had your tin foil hats on real tight there to handle that kind of black helicopter magic.  That's besides the point here.  Instead you've got two CCHA v. CHA games in the Midwest and wouldn't fans of karma love seeing a UAH v. Bemidji showdown to see who moves on to the Frozen Four in Detroit.
The downside here is that UAH is going to need all the heart and guts and puck-luck they've ever mustered to get by the Miami Redhawks.  Miami enters the tournament as the #1 team in the whole thing and they've got a lot of guys back from last year's NCAA Finals team who have that stinging loss sticking out in their minds.  Hobey Baker Award nominee, goaltender Cody Reichard comes into the tournament with beastly numbers. Sporting a .924 save percentage and a goals against average of 1.79 are stunning numbers at the college level, especially in the CCHA.  Scoring-wise, the Redhawks have a quintet of scorers lead by senior Jarod Palmer (18-27-45) and four juniors Tommy Wingels, Andy Miele, Carter Camper and Pat Cannone.  Miami can fill the net easily and stop the pucks with ease… Unless they're up against Michigan apparently.
What makes Miami ripe for an upset?  Since January, the Redhawks have had a handful of head-scratching losses starting with being swept in a weekend series by Robert Morris. While that could be chalked up to being a bad weekend, Miami has been prone to "hiccups" like losing to Nebraska-Omaha, losing and tying Ohio State, and then losing to Michigan in the CCHA semifinals.  Ideally if you're a team looking to win a National Championship you want to have your "hiccup" games earlier in the season and Miami seems to be having them more regularly later in the year.
West Region top seed Wisconsin comes into the tournament after playing hard and coming away with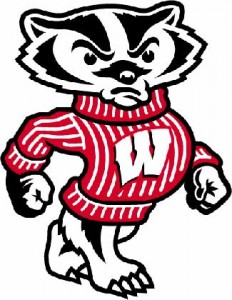 a 1-1 record in the WCHA Final Five, losing in the semifinals to St. Cloud State while kicking Denver in the teeth in the consolation game.  Wisconsin has a boatload of talent including two Hobey Baker Award nominees in forward Blake Geoffrion (Nashville) and defenseman Brendan Smith (Detroit).  Not to mention WJC superstar Derek Stepan (NYR), freshman forward Craig Smith (Nashville) and undrafted senior forward leaders Ben Street and  Michael Davies and you've got yourself a pretty dangerous team.
Wisconsin finds themselves matched up against the University of Vermont, losers to Boston University in the National Semifinals last year.  Vermont has played beastly in non-conference games this year and luckily for them Wisconsin is not a Hockey East team.  What makes this game intriguing is that these teams both play the game with a special focus dedicated to team defense, which means that flukey things occurring could turn this game on its head as far as Wisconsin is concerned.  The Badgers have the superior talent in this game without a question and Vermont lacks the game-breaking talent that they had last year with Viktor Stalberg but if Vermont can put the clamps down and make Wisconsin try to earn everything in the game, Vermont could steal one. Wisconsin has to be wary though as Vermont has been wildly inconsistent this year and if the good Vermont team shows up, the Badgers are in for a real tough game.
As for the East Region top seed Boston College… They look good and strong.  The 7-6 overtime win against Maine in the Hockey East title game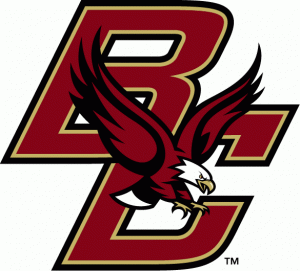 aside, Boston College has been a ferocious team comparable to past title-winning BC teams.  Their losses this year have been close ones and many of their wins have been thoroughly dominating.  If there's a reason to worry if you're a Boston College fan it would be that the bad John Muse shows up in goal against the offensively-maligned Nanooks of Alaska.  Dion Nelson and Andy Taranto are the only scorers of note for the Nanooks and provided that the BC defense doesn't allow them any room, Boston College shouldn't have any problems with Alaska.
Then again, there's a good reason why they play the games and Alaska goaltender Scott Greenham is capable of shutting down big scoring teams.   Can he do it against a team that's been punishing everyone for the last month and a half and has a stud from the WJC gold medal team in Chris Kreider (NYR)?  I'll hedge my bets enough and say, "no" this time.  Boston College looks like a frightening team and have a potential second round match-up against a team they haunt in the NCAA Tournament with North Dakota.
Whether or not any of these four seeds can do the seeming impossible and take out their top seeded overlords remains to be seen, but as has been shown in recent years the chances are improving each year to see someone with high hopes to be crushed under the weight of expectations and perhaps looking too far ahead for their own good.