Posted by Hockey Joe on April 9th, 2010 |
2 comments
Want to know why hockey is the greatest game on the planet?  Check out the ovation the fans in Dallas gave to Mike Modano playing in his final home game there at least this season, and perhaps in his career.
I hope you watched that to the end because Stars color man Daryl Reaugh said it right. "That was friggin' awesome."
Whether you remember Modano as being the guy part of the team that broke your heart in 1999, as a member of one of the more questionably put-together Olympic teams in 1998, as the face of the Minnesota North Stars before they were yoinked off to Dallas by Norm Green, or as the guy that got jobbed out of winning the Calder Trophy as rookie of the year in 1990… Chances are that you know who Mike Modano is and the important role he played for hockey in America.
Yeah, I said it.  I said it because when he does retire, be it at the end of this season or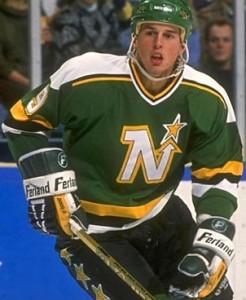 at the end of whatever season he damn well pleases, he'll retire as the greatest American hockey player of all time.  Shocking, isn't it? For the attention that his contemporaries like Wayne Gretzky, Mario Lemieux, Mark Messier and Steve Yzerman got – Mike Modano had one thing going for him and it was that he hailed from Livonia, Michigan.  He was a good ole' American boy and a guy who busted his hump as hard as any of those Canadian wunderkinds ever did.
He toiled in semi-obscurity playing for mostly mediocre teams in Bloomington, Minnesota with the North Stars and got his first taste of success in 1991 as the North Stars made a miraculous run to the Stanley Cup Finals only to be pummeled by Mario's Penguins in six games.  The big guy he played with in Minnesota was another good American boy (I'm getting a little Don Cherry-ish here folks, bear with me) in Neal Broten, a member of the 1980 "Miracle On Ice" team.  Broten was a Minnesota boy and Modano getting to spend his first few seasons getting to play and learn with him had to do wonders.
Just as Modano's career was starting to break out and blossom in Minnesota, the team was off to the untested southern frontier of Dallas.  Minnesota fans were left bitter and it was unknown just how Texans would receive ice hockey.  Without a guy like Mike Modano it might have failed miserably.  There, Modano continued to be the lifeline for the Stars racking up the high offensive numbers we've become more accustomed to these days pulling in 80-90 points per year.
Dallas then established themselves as a regular playoff team and it paid off in 1999 with the team's first, and only, Stanley Cup.  Guys like Joe Nieuwendyk, Ed Belfour and Brett Hull garnered a lot of the attention on that team, but it was Modano who was the leader and the guy that lead the team in points in the regular season and playoffs. Nieuwendyk might've won the Conn Smythe but it's easy to see who carried the load for the team all year.  If you want a better idea of what Mike Modano's meant to hockey in Texas, just do a search for "Youth hockey, Texas" and look at everything that comes up. Then take a look at when a lot of these huge leagues formed and you'll see that a lot of them came about right as Modano's Stars were on top of the NHL. That's no coincidence.
Obviously other people can offer a better perspective on what Modano means to them (like Stars beat writer Mike Heika for instance), but for me as someone who wasn't a fan of the Stars I never properly looked at Modano's career and what he stood for as an American hockey player. I never once before gave him the proper credit nor looked at him with the proper perspective he's earned for his career: The greatest American hockey player.