This is going to end up being a post done in mostly video form to help describe some of the nonsense that went on at the WCHA Final Five. Please excuse the mostly amateur hour commentary from yours truly in any of these videos as.. Yeah, it's been a while since I've done any variety of video and/or camera work especially with a device as simple and useful as the Flip Camera.
As I mentioned eons ago in my post leading up to the Final Five, one of my side-missions of the Final Five was to spot an iconic figure known as Siouxbacca. Amazingly enough, of the five things on my list, Siouxbacca was the hardest thing to spot. It's not as if we didn't look for him, but he was highly elusive.
Thankfully, my host for the trip Brent clued me in on another legendary figure at the Final Five: Mullet Man. Now, I know what you're saying, "Gee Joe, a guy with a mullet at a hockey game? That should be really hard to find." To that I say, "Shut your face."
The truth about Mullet Man is that he's got one of the iconic, legendary mullets. Think of Dog the Bounty Hunter and turn that mullet up to 1000 on the Awesome Meter. Thankfully, that search would not fail. The fun comes while you play "Where's Waldo" with the video.
I know you're all disappointed that there was no Siouxbacca. He, apparently, decided to not make an appearance this year, unless others saw differently that is and if you did please let me know, my friend Lindsey was able to provide photographic evidence that he does exist.  You better believe this helps add to the Loch Ness Monster-like appeal too.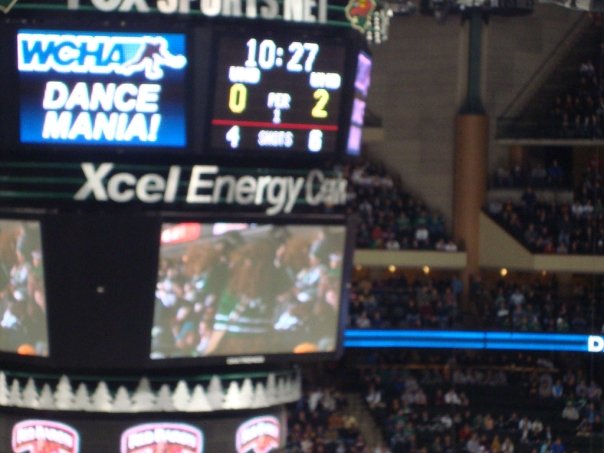 There he is, dead center of the video board from the 2009 WCHA Final Five. If you're thinking I feel slighted that he didn't make an appearance this year… You better fucking believe it.
As for the Xcel Energy Center itself, the facility is phenomenal and it was incredible to be at a building that was built specifically with hockey in mind. I checked out the games from various locations throughout from the lower to the upper levels to the very impressive Club level. Simply put, there's not a bad seat nor view in the house. Obviously if you're sitting way upstairs your views can get blocked by inconsiderate fools who can't help but lean forward, but that's a problem anywhere.
The hockey, to me, was outstanding. Aside from the Wisconsin-St. Cloud semifinal, most of the games were very entertaining. The folks who have been here more than a couple of times said they were really let down by both the atmosphere and the quality of games. I told them if they wanted to see they were living in the lap of hockey luxury they should come out and "experience" the ECAC Tournament one year so they can see mostly dreadful-to-watch hockey in front of small crowds with little-to-no fire to them.  Their response was only to move out to Minnesota already and spoil myself. Frankly, that wouldn't be so bad – but I digress.
One of the other things on the list that was completed was taking part in some honest to God tailgating, complete with being shown the ropes in what should now become a nationwide phenomenon: Beer Darts.
Sounds dangerous, right?  Well… Not exactly. First, an introduction.
Not bad, right? Well now it's time to play – and play I did. Thanks to my friend Kayla for taking reigns of the camera for this one.
I'll just call that beginner's luck.
Curious about what the first person perspective looks like while perched atop a cooler, drinking beer in 35 degree weather in Minnesota? Don't worry, I've got you covered there, too.
Where there's beer to be had, there's also food to be eaten and where else was there to go but the now world famous Matt's Bar, home of Travel Channel's Food Wars winning Jucy Lucy.
For what it's worth, I've now been to two places featured on Food Wars and both have come up victorious (Duff's Wings in Buffalo being the other). I'm open to being paid to come visit somewhere to help spread my special brand of good luck. This kind of good luck also applies to home teams in NHL games (home teams went 4-0-0 in games I attended this year). So, you know, if you're really hoping to win in the playoffs… You know where to find me.
Anyhow, perhaps the coolest thing of them all, as far as hockey goes, that I got to experience (aside from the greatness that is the WCHA Final Five, easily the best college tournament in the country that isn't called the Frozen Four) was getting to hitch a ride on the Zamboni. If your computer can handle it, I suggest watching this one in HD.
Big thanks go out to the event staff at Xcel for allowing a big mook like me to get on the Zamboni and to Brandon at Sioux Yeah Yeah for helping set it up.  Even bigger thanks go out to Chris the driver for putting up with my shoddy camera work and asinine questions as we took the tour around the rink.
My conclusion on the trip: Perfect. Outstanding. A hockey-lover's dream. I only captured a handful of the things actually going on around the Final Five itself because, honestly, I was caught up in soaking everything up myself. Videos from a small camera aren't going to do the venue justice and they certainly aren't going to do justice to the atmosphere of the entire thing.
Fans going bonkers over everything before and after the games and the easy-going camaraderie at the local watering holes afterward. Sure, everyone will be saying taunting, borderline awful, stuff to each other while the game is going on, but when it's time for a beer to celebrate/drown sorrows in… Everyone's patting each other on the back, having a laugh and most importantly, talking hockey. After all, the Final Five is the WCHA's final outpost before the NCAA Tournament begins, and more often than not, fans of the WCHA want the conference to do well in the tournament because it looks good on everyone else. Why Boston College isn't hated more out west than it is further down Commenwealth Avenue in Boston I'll never know, but that's just how it is in the college hockey world.
I've recommended to folks that seeing the Frozen Four in person is one of those sports fan bucket list sorts of things and after seeing the Final Five I'd add that to the list if you're a hockey fan. The atmosphere is incomparable to anything else you'll find in college hockey (and to think, I saw it during a supposed down year) and the knowledge of the game amongst fans is some of the best you're going to find in any given location at any time, anywhere. Being as big a fan of hockey, college hockey especially, as I am this was akin to a trip to the holy land for a religious person.  Of course, you could argue that hockey is my religion and I really wouldn't fight you too much on that.