According to WSOC sports anchor Bill Voth, via Twitter, the Charlotte Checkers of the ECHL have called a 2:00 p.m. Wednesday press conference to announce that Checkers owner Michael Kahn is purchasing the Albany River Rats.  The plan for Kahn is to relocate the franchise to Charlotte where they will continue to be the farm team for the Carolina Hurricanes.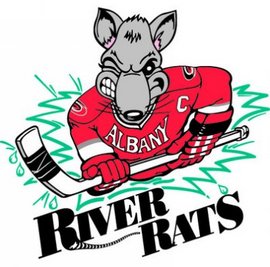 As I mentioned a couple weeks ago when this story broke, the River Rats got very hush-hush about things and made the standard company stand-by comment of, "Nothing to see here… Yet."  While there's no comment from the folks in Albany as of now (give it time), this ends the current tenure of the River Rats in Albany.  While there will be other teams looking to relocate or add affiliations, if one is going to move to Albany, it'll have to be through new ownership.
What should prove interesting in this scenario is what will happen with the Adirondack Phantoms, who will be in Glens Falls again next year, should there not be a local rival to split a massive number of games against each other next season.  The Phantoms have outdrawn the River Rats so far this season even though the Glens Falls Civic Center is a much smaller venue than that of the Times Union Center in Albany.
The fun, Albany point of view on this now is what is the hockey world's opinion of Albany now? The city has failed with the River Rats both under the "guidance" of the Devils and now with the Hurricanes and the city failed to retain the ECAC Tournament semifinals and finals getting beaten out by the hockey hotbed of Atlantic City, New Jersey in a deal that just managed to keep SMG's pockets happy.
This year, the NCAA Hockey East Regionals again return to Albany and unless there's some major local influence or a massive regional fanbase to help draw crowds, attendance is expected to be mediocre at the cavernous facility yet again.  While the folks running Times Union Center has its fingers crossed twice over hoping Cornell, Union and RPI can all make the ECAC final four, it's likely, although not guaranteed, that only one of those schools could end up in Albany for the NCAAs.  Whether you want to point the finger at apathetic local interest or at terrible marketing on behalf of the ECAC and NCAA, you could win an argument in any way you wanted to as all of it has been piss-poor.
That's not to say that sports fans in Albany are that fickle, it's just we've all been down that road before and been jerked around for it in Albany and the Rats failure is yet another example of that.  Albany fans have often been blessed with great teams to root for at a low professional or minor league level only to find screwball owners get a little too excited over a good thing.  Take a look at this awful sports history off the top of my head:
It happened in minor league baseball with the Albany-Colonie Yankees who bolted the decrepit Heritage Park for the new confines in Norwich, Connecticut.
It happened in the CBA with the Albany Patroons who thought that moving over to the Knickerbocker Arena out of the Washington Avenue Armory would bring bigger crowds and then overshot their estimates and then caved into local money naming the team after local car dealerships. Yes, the Capital Region Pontiacs are a name that should long live in infamy for how not to win fans over or influence anyone.
It happened in Arena Football as owners Glen Mazula and Joe O'Hara couldn't find a way to make a championship winning team into a profitable item in spite of drawing great crowds and then giving into the AFL's demands to fill out NFL markets with AFL teams and settling for an af2 booby prize that failed miserably because fans knew they were getting an inferior product to an already inferior product.
And you can believe it that professional hockey has been down this road already many times before.  Look back at the illustrious history of the Adirondack Red Wings who were chased out of business by the River Rats in the 90s as well as the short-lived tenures Capital District Islanders and Albany Choppers.
These are all teams that have been around in just the past 25 years in Albany, and people wonder why fans of the Capital District are just burnt out and sick of getting jerked around.  What's even more amazing through all this is that the last man standing is the single-A Tri-City ValleyCats and they play in a stadium named after a convicted local political felon.  Un-friggin-real.
Would I like to see a better run AHL team in Albany?  Sure, but buyer better beware because the fans of this area are wise to all the tricks and gimmicks meant to sell people on anything.  Folks are burned out and fed up of being treated like a marketing class pet project.  Besides, what the college teams at RPI and Union are doing this year in hockey (and Siena in basketball) is proving that long-standing local ties and a damn good product can pay off and be exciting – just don't shoot for the moon to make a few more bucks or treat the fans like suckers.