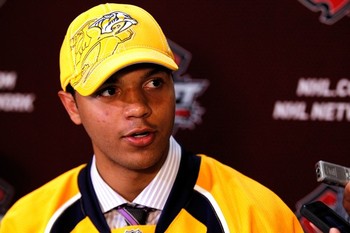 If you missed Part 1, I am ashamed of you. Also you can just find that here. You'll find Anaheim through Montreal there.
As for the rest of the teams…
Nashville: They made plenty of splashes this summer. American superhero kid Seth Jones fell into their lap at the draft and then they signed four free agents (Viktor Stalberg, Matt Cullen, Matt Hendricks, and Eric Nystrom). Sound and fury signifying nothing? Maybe not. Those players all strike me as prototypical Predators players. Is that a good thing? Maybe not, but jeez they're going to be annoying to play against. (B-minus)
New Jersey: David Clarkson and Ilya Kovalchuk leave town and take a good chunk of their offense with them. Sounds bad, right? Adding Ryane Clowe (on a bad contract), Michael Ryder, and Rostislav Olesz won't make up for that loss. At least they figured out their "life after Marty" dealing for Cory Schneider. All things considered, it's a terrible summer player and talent-wise but if it leads to the team being sold with hopes of better spending in the near future, it's not all bad. It's just business in Jersey. (B-minus)
NY Islanders: I'll say it here and now: Garth Snow is pretty damn great at his job. The team is free of the hideous DiPietro contract, he dealt Mark Streit to Philly while signing Cal Clutterbuck, Pierre-Marc Bouchard and Peter Regin. Not to mention he re-signed Travis Hamonic and Josh Bailey. Only Bailey's deal is worthy of cringing but he got John Tavares extended on a super sweetheart deal during the season. One thing he didn't do? Improved team goaltending. That was the one thing that held them back against Pittsburgh in the playoffs and they brought the same old guy (Evgeni Nabokov) back in a summer that was teeming over with goaltending possibilities. You take the good with the bad, yada yada, the facts of life on Long Island. (B-minus)
NY Rangers: Their report card is still a tad incomplete. Getting Ryan McDonagh's deal done was huge but Derek Stepan still awaits. Re-signing Carl Hagelin was a smooth move and bringing back Mats Zuccarello would be wise as well. Giving Brad Richards a chance to show what he's got to Alain Vigneault was logical. If he stinks next season it's buyout time. Aaron Johnson and Benoit Pouliot are depth filler for what should be a better team. (C for blandness)
Ottawa: An awkward and acrimonious good-bye with Daniel Alfredsson didn't stop GM Bryan Murray. Dealing Jakob Silfverberg and more for Bobby Ryan while signing Clarke MacArthur (cheers) and Joe Corvo (groan) helped make sure the Sens didn't lose much of anything offensively. Image-wise they lose the face of their team. Here's to hoping they don't mind embracing an American in Canada's capital city. (A-minus)
Philadelphia: It's never dull in Philly. Danny Briere and Ilya Bryzgalov were bought out, Mark Streit was traded for, and Vinny Lecavalier and Ray Emery were signed as free agents. Meanwhile, the same questions that lingered around their defense are STILL there and the goalie situation may or may not improve. But hey, at least the offense will stay strong! In other words, it's another year of the same ole', same ole' in the City of Liberty. (C-minus)
Phoenix: Mike Ribeiro's arrival gives the Coyotes a playmaker the organization hasn't seen since… The washed up husk of Craig Janney? Sure, why not. A team loaded with guys oozing with goal-scoring potential and power forwards needs someone that can get 'em the puck. Ribeiro is it. Swapping out Jason LaBarbera for Thomas Greiss is a lateral move. Landing Max Domi in the draft gives their prospect pipeline a real offensive threat for the first time since… Radim Vrbata? Mikkel Boedker? Take your pick. All this along with the franchise getting to put ownership questions away (for at least five years) makes it a great summer in the desert. (B-plus)
Pittsburgh: The Pens' veteran "go for it all" lineup last year didn't pay off and now most of the team sees a dramatic change. Out go Tyler Kennedy, Jarome Iginla, Brenden Morrow, Douglas Murray and Matt Cooke and in returns Rob Scuderi. Their biggest job was re-signing Pascal Dupuis and extending Kris Letang, the latter to a semi-dubious deal. They're still going to have to ride it out with Marc-Andre Fleury and see if he snaps out of it. Good luck on that. They'll also need to hope their prospects can jump in seamlessly. (C)
San Jose: They didn't really have to do much. After their deadline chaff-cutting deals they figured their business out just fine. Acquiring Tyler Kennedy from Pittsburgh gives them better depth at forward and that's maybe the one thing they really needed. Letting Thomas Greiss go in favor of giving Alex Stalock his shot at backing up Antti Niemi is just them giving the younger guy his opportunity.  (B)
St. Louis: Their summer was mostly about making sure no one poached their RFAs. With guys like Alex Pietrangelo, Kevin Shattenkirk, and Chris Stewart needed to be signed, that left a few possible bullseyes out there for poop-stirring GMs. Of course, no one has jumped at the chance (yet) but GM Doug Armstrong says they'll match anything. Of course he did. And they probably will too so, just whatever. Anyhow, trading David Perron for Magnus Paajarvi is interesting and adding Derek Roy in free agency gives them a nice playmaker while Maxim Lapierre gives them yet another irritating player. Their possible three-headed goalie circus could cause problems if not fixed. (B-minus)
Tampa Bay: Essentially traded Vinny Lecavalier (buyout) for Valtteri Filppula (UFA) and didn't do much else. Whatever Steve Yzerman is cooking up here had best center around first-round pick Jonathan Drouin and their AHL stars. Their defense still stinks and their goaltending is riddled with questions. Hey, wait, are they just Flyers of the south? Somehow they managed to do even less than they did. (D)
Toronto: Not a fan of buying out Mikhail Grabovski at all but if he's not fitting in with the coach, you have to draw a line somewhere. Sadly for the Leafs, they picked the coach. Out goes Grabbo, in comes David Clarkson on a bloated deal that won't end well and Tyler Bozak gets extended. Adding Jonathan Bernier to the goalie mix while buying out Mike Komisarek instead of say John-Michael Liles just piles on the question marks over what exactly Dave Nonis is doing. They needed defensive help and didn't get any while adding tons of cash to the payroll. (D)
Vancouver: Dumping Cory Schneider to draft Bo Horvat is the move that makes me unable to give them a grade. How will Roberto Luongo handle having to stay in Vancouver after pining for an exit for two seasons? Adding Mike Santorelli as your one big signing while buying out Keith Ballard says John Tortorella will have a group of guys that know each other well to browbeat into a Cup-winning team.
Washington: They didn't go hard after keeping Mike Ribeiro and let Matt Hendricks go without a fight. They bought out Jeff Schultz and signed Tyson Strachan for what amounts to a lateral move on defense. GM George McPhee has never been a big free agent guy and wisely stayed away from this year's crop. Of course, deciding to go with Brooks Laich as your No. 2 center doesn't sound like the move of a team "dying" to win a Stanley Cup. Much like Calgary, I'll ask again here: Why aren't they pursuing Grabovski? It makes too much sense. I agree with staying out of this free agent frenzy, I don't agree with not (yet?) taking a shot on a guy who can make you better right away. (C-minus)
Winnipeg: They're busy getting some RFAs signed including two top-line players in Bryan Little and Blake Wheeler. Throw in top defenseman Zach Bogosian and the Jets are busy taking care of their own… Unless that's Alex Burmistrov who they let go to the KHL. Adding Michael Frolik and Devin Setoguchi helps make them deeper on the wings and a possible full season from Jacob Trouba makes them a bit deeper on defense. Things could be better and they shouldn't play hardball with their RFAs the way they are. Bad free agent year I know, but not even checking in on say Rob Scuderi? C'mon now. Maybe they're just playing it cheap to thank the boss (Gary Bettman) for getting them a team again. Owner David Thomson is loaded and yet they've got the lowest payroll in the league. At least Ondrej Pavelec is getting paid though, right? Yeesh. (D)