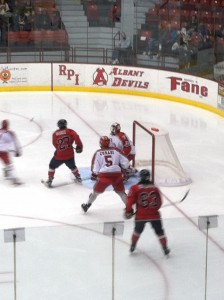 There was plenty to like and plenty to pick apart from RPI's 6-2 win over Acadia. It can always be misleading to judge what you see out of a team in an exhibition game against inferior talent, but I'll give it a whirl anyway.
— The sophomores looked a bit more grown up (duh). Notably Matt Neal and Jacob Laliberte had fun games. Creative with the puck, no seemingly dumb plays, and helped push the offense. RPI needs that badly.
— I knew going into the season goaltending was going to be fascinating to watch and the exhibition left me thinking freshman Jason Kasdorf (pictured) and sophomore Scott Diebold are going to make senior Bryce Merriam a resident of the bench more often than not this year.
— Yes, I know that's potentially a dumb thought to have after each guy got 20 minutes of action but my feeling is that Merriam's leash is going to be really short this year.
— I dig Milos Bubela. If I was still doing photoshops, there'd be one of Mike Myers as Linda Richman yelling about her favorite bubbelah being Bubela. I like puns.
— I think Mark McGowan is going to have a nice year. He's shaping up to be a solid all-around player and the goal he scored sure looked pretty. Granted the Acadia goalie was playing too deep in his net and he reacted late, but still.
— The defense is going to be fascinating to watch. Pat Koudys is gone, Nick Bailen is still awesome, and Curtis Leonard is just solid all around. Freshman Phil Hampton makes me curious. He showed a good shot from the point and seemed to just be involved in the play a bunch.
— Bo Dolan still looked like a freshman. He's a third pair guy but I'd like to buy him some confidence.
— Of the freshmen (and there's a bunch) I think Mike Zalewski and Mark Miller are going to be insta-helpers. Zalewski's size and skill should help him evolve into a solid scorer while Miller seems to have the makings of a good checking line type player.
Obviously this is a really small sample size to judge from, but there's reason to keep your head up if you're an RPI fan. The team is crazy young though so there's going to be mistakes and missteps along the way.
Teams are going to play tighter defensively and be a bit faster than Acadia was so they won't get to skate circles around everyone. Add in the ECAC being a mostly trap-and-bore league and it makes for a hell of a grind. If they don't get worn down and overly frustrated by the league schedule this could wind up being a very fun team to watch.