Insane.  Just watch.
I thought about this rule a lot yesterday given the wacko spin-job the NHL tried to put on the whole mess with Brad May's "no goal" against the Dallas Stars. The sport being what it is decided to one-up itself in a game between two severely struggling teams in Carolina and Toronto. This situation happens in overtime and bones Toronto out of an overtime victory, one which they couldn't secure in the shootout because, you know, somehow winning a game in overtime and in the shootout is viewed as the same fucking thing.
Whatever.
The conclusion I've come to on this bogus "intent to blow the whistle" nonsense is that it's a crutch. It's a crutch for the officials because God forbid they make a definitive call in a game or do their job effectively. This has to end. Play to the whistle or don't play at all. Simple as that. I know why the "intent to blow" clause is in the rule books, I understand it perfectly.
No more though. Referees are going to drag their asses in games and pretend that they're bigger than the game itself? Too bad, your time has ended. The fact that more fans are getting to know the names of officials for all the wrong reasons isn't a good way to seek out fame. People know Kerry Fraser because of his stupid hair but they also know him because he botched a call in the 1993 Western Conference Finals. People know Don Koharski because then Devils coach Jim Schoenfeld called him a fat pig and asked him to have another donut. They don't know Don Koharski because he's a swell guy or a good official, that's crazy. People know Bill McCreary because he's got a porn star mustache and can't help but be the center of attention in any game he works.
Stop the insanity already. I want a couple of things out of officials. I want consistency and I want accountability for their actions when they decide they're better than everyone else.  Consistency is already an impossible thing to get out of any game so I'm shit out of luck there, at the very least I should be able to get officials that don't think they're bigger or better than the game itself.  It looks like we're all screwed there too.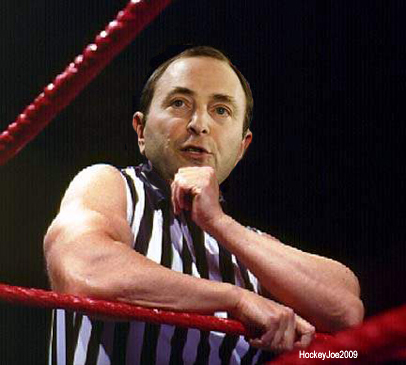 He intends to blow each and every night.  Mission accomplished.
The NHL has to get rid of this bogus ghost rule because any time it comes into play it's a cop out of the highest order.  "Well, I wanted to stop play, but I was too damn slow to do it."  What a joke.  Two nights in a row now games have been botched because of this referee crutch.
Get rid of it.
(Much thanks to Jeffler on Twitter for being lightning fast in pointing the video out on YouTube)