You're already aware that the Calgary Flames and New York Rangers have made a rather dubious trade.  The Flames sent Brandon Prust and Olli Jokinen to New York for Ales Kotalik and Christopher Higgins.  Stan Fischler thinks it's a steal for the Rangers meanwhile Flames bloggers are trying to figure out why GM Daryl Sutter went and got Ales Kotalik.  SBN's Matchsticks and Gasoline tried to put together the case for Kotalik (due $3 million a year for the next two years after this one) but basically said he's doomed to a future of being a healthy scratch.   Never mind the impact of Christopher Higgins, who now finds himself on his third team in less than two seasons and was playing pretty miserable for the Rangers this year.
Of course, the focal point of this is on the Rangers, as far as media goes.  The Rangers are mired in a scoring funk and found a team in Calgary desperate to rid themselves of a guy they thought was going to spark Jarome Iginla but turned out to not do anything of the sort.  In a much similar situation, the Rangers are desperate for scoring from anyone else aside from Marian Gaborik and figure that the change of scenery for Olli Jokinen will be the spark they'll need to climb back up the Eastern Conference standings.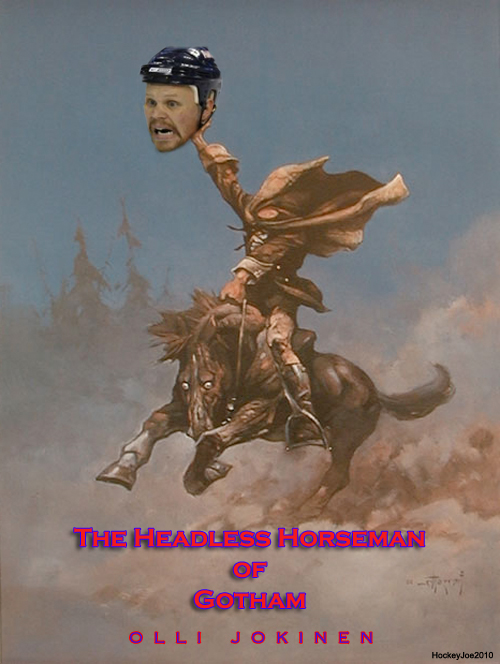 I dig Olli Jokinen.  He's a creepy looking dude, he reminds me of New York historical folk lore characters and he gets fired up when it comes time for the Olympics playing for Finland.  Perhaps this is what Rangers coach John Tortorella is banking on happening with the Rangers.  At the very least, Jokinen's contract ends after this season and the Rangers won't be paying him (or Ales Kotalik) anymore.
The logical break down here is simple though.  Is Olli Jokinen better than Chris Higgins and Ales Kotalik?  Yes, absolutely.  Brandon Prust, for all that he does, is just another guy to fight Aaron Voros and Donald Brashear for pugilistic ice time.  As it was, Kotalik wasn't seeing the ice anymore in New York so he was dead weight (another brilliant off-season signing by GM Glen Sather) and Higgins was wildly underperforming.  Jokinen's stats aren't mind-blowing (35 points in 56 games for Calgary) but with the Rangers he's a marked improvement and helps the Rangers out salary-wise with an expiring contract.
As for Calgary, I'm at a loss for words.  After making a very beneficial trade with Toronto two days ago unloading the over-hyped Dion Phaneuf  for half of Toronto's scoring forwards, the Flames get caught up in the excitement of making trades and continued on with the Rangers obtaining one guy who may not perform well (Higgins) and another they have no idea how he'll work out (Kotalik).  Life is a lot harder in the Western Conference and Calgary was feeling the heat to do something to secure a playoff spot while other teams fighting with them, so far, are standing pat.  I'm not sure if Calgary beating others to the punch is going to help them out, but if chemistry develops quickly it'll pay off big time as other teams hovering around the 7-11 spots in the West are all figuring out ways to shoot themselves in the foot with better accuracy.
At the very least, the best I can hope for out of this situation is to maybe get an e-mail from Olli's wife like Puck Daddy did.  Please don't skimp on the criticisms, Mrs. Jokinen.