The regular news from tonight's NHL action will read that Vancouver lost a tough game against Nashville at home 3-2.  The real story came out after the game when Canucks irritable forward Alex Burrows dropped a tactical nuke-sized bomb saying that referee Stephane Auger approached him during warmups saying… Botchford from The Province has all the pertinent information.
"It started in warm-up," Burrows said. "Before the anthem, the ref came over and said I made him look bad in Nashville on the Smithson hit and he was going to get me back tonight.  When Smithson hit me sideways he said 'I saw the replay you had your head up and weren't really hurt and you made me look bad and I'm going to get you tonight."
The game Burrows is referring to is a game from December 8th, also against the Predators, where Jarred Smithson received a five-minute major for charging and a game misconduct in a game Nashville also won 4-2.  In last night's game, Burrows was dinged for three penalties in the third period, two of which most folks are describing as "dubious" including a diving call that was not matched up with the usual accompanying penalty on the other team.  Suffice to say, there's some red flags here.
The fun part of tonight's affair is that the Sportsnet cameras caught what might be part of the smoking gun on video.  Have a look.
Obviously it's impossible to tell much of what's being discussed here even if you can read lips, it's just six seconds of video.  The fun part of this incredible accusation by Burrows is that it's gotten folks all across Twitter to dig into Stephane Auger's past to see if there are any other heated discrepancies and… You could say there's a few and you don't even need to check out games outside of this season to find some, two of which were games that were discussed right freaking here.
The first example is a game where his officiating partner Dennis LaRue took the heat for wrongly disallowing a Brad May goal against the Dallas Stars, a dubious decision considering it ended up costing Detroit the game.  The other game occurred when Philly's Daniel Carcillo cold-cocked Matt Bradley and Auger awarded Washington an unprecedented nine minute power play against the Flyers.
If you want to dig even deeper, both the guys at Kurtenblog and Twitter fan MsConduct did some instant Internet research to find other complaints against Auger in the past, including one instance where Coyotes forward Shane Doan lost his cool and Auger accused him of using an ethnic slur against him.
With all of this stuff popping up all over the place, another bizarre call by Auger on Burrows shows that the dislike for each other may go back even further still.  Take a look at this video from last season.
Burrows was given a five-minute major for cross checking and a game misconduct for what amounted to basically nothing aside from Patrice Brisebois overselling a sort of hard hit.  If I were Alex Burrows, I know I'd question an official's ability if he's handing out major penalties like that like they were candy.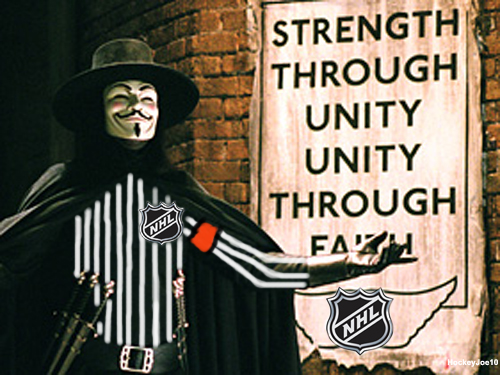 Alex Burrows' vision of what referee Stephane Auger actually is.
Let's get to the heart of the matter here though:
Alex Burrows has made a very damning accusation, one that is tantamount to accusing the official of fixing the game.  Burrows is no angel, he plays a game on the edge of being legal and illegal.  He's got a history of questionable hits and plays and he's most certainly got a reputation amongst the players and the officials.
Stephane Auger, as is being unearthed even more as I write this, has a history of questionable calls and now has a very serious allegation being made against him, one where he's even caught on video speaking with Burrows before the start of the game.  This is a situation where the league has to do every bit of due diligence imaginable because the credibility of the game is being questioned. One thing that Gary Bettman cannot do is follow the example of his big brother in the NBA, David Stern.
In April 2007 when San Antonio Spurs superstar forward Tim Duncan called out referee Joey Crawford, Stern, ever the mediator, suspended Crawford for the remainder of the regular season and playoffs while fining Duncan $25,000 for slamming an official.  Duncan received two quick technical fouls, one while he was on the bench laughing with teammates, and was ejected from a game that ended up costing San Antonio the second seed in the playoffs.  Crawford was reinstated the following season and he promptly managed to make a no-call in a game between the Lakers and Spurs that cost the Spurs Game 4 of their series, an error so egregious the NBA apologized for it.  Some consolation.
Gary Bettman and NHL head of officiating Terry Gregson cannot screw the pooch on this matter.  If it turns out to be absolutely true that Stephane Auger said this to Burrows before the game he absolutely must be fired from the league.  To have a referee go rogue like this and take it into his own hands to decide how he's going to call a game and be purposefully slanted against one player on the ice puts that player's team at an instant disadvantage and makes the game immediately unfair and destroys the competitive balance.  If an official wants to take the game into his own hands in such a way, that's an official that no longer needs to be affecting outcomes of games with their biased judgments.
If it turns out that Burrows was butt-hurt for blundering through the third period and Auger just happens to be a very mediocre official and Burrows opted to throw him under the bus because he flat out hates the way he calls a game then Alex Burrows better have a second career option waiting for him because if he thinks the calls are working against him now he hasn't seen anything yet.  Is there a referee in the world that would give Alex Burrows the benefit of the doubt for anything after leveling a complaint like that and it turned out to be false?  No friggin' way.
Never.
Ever.
But if Burrows is telling the truth… The NHL spin doctors better be prepared for the enormous public relations nightmare that awaits them because every official is going to go under the microscope.  If you thought the rules crackdown after the lockout was rough on teams, the rules reinforcement that will go down through the fallout of this situation is going to be eerily similar.  After all, there can be no appearance of favorites and there can be no complaints anymore.