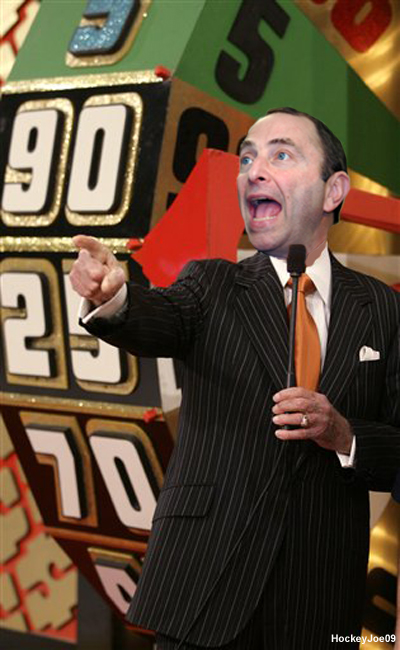 "Hey players, spin the wheel, make the deal… OR ELSE!"
It's only been eight years since the last NHL work stoppage and hey, look at that, we're about to have another one.
The last lockout got me my fire back to write. I started blogging, mostly to vent about everything that was good and stupid about what the NHL and NHLPA did in 2004 to help kill a season and then come back to win the fans over with false promises and "rule changes" that were just the same rules they had already and made sure to call them. Well, for a year or two anyhow.
Now we're back at what seems like square one all over again, only this time it's on the owners for being belligerent. After all, how else do you explain locking out the players for using the system they killed a year to get implemented? You can't explain it, it doesn't make sense.
Problem now is it's all a PR game. The players want to make sure they don't look bad in front of the fans and the owners just want their damn money back that they willingly forked over to the players. Does it sound like I've taken a side here? I guess it does.
In the meantime, I'll be making sure to spend more time in Albany and Glens Falls to see displaced NHL players with AHL options. That means really good things for all the teams in the AHL as there's a ton of talented players headed that way. Will it pay off in better attendance in some places? It'd be nice.
You won't be lacking in hockey options, kids, there's plenty to be had. AHL, ECHL, NCAA, CHL… They're all there waiting for your (renewed?) support. The NHL will survive one way or another, it just depends on how big of a black eye it ends up wearing when it's all said and done.