Hey remember when Alexander Ovechkin hit Buffalo's Patrick Kaleta from behind and was assessed a major penalty and a game misconduct for doing so?  I mean it was just last week so unless you got too hammered avoiding your relatives before, during and after Thanksgiving I can give you a pass there.  If you did forget about that, it's OK, the buzz cooled off right away after that because Kaleta ended up being the reckless scumbag he is and did something just as dumb as Ovechkin did except he injured Philadelphia's Jared Ross.
Problem there for some folks was that Ovechkin wasn't suspended for his hit while Kaleta was, even though both hits were almost identical right down to the players being hit being stupid enough to turn their backs on the on-charging players putting themselves in the position to get injured on their own.
Well funny thing happened tonight in Raleigh as Alex Ovechkin was at it again, this time Carolina defenseman Tim Gleason draws the fire from Washington's Mad Russian.
Ovechkin not only gets injured on his own from this hit but he again picks up a five-minute major and a game misconduct for his trouble. Considering how Ovechkin was helped off the ice, kicking him out of the game is akin to suspending a starting pitcher in baseball for four days for beaning a guy, the punishment wasn't going to affect him anyhow because Ovechkin probably wasn't coming back to play anyhow.
So once again, Colin Campbell is going to get the call to decide what, if anything, will be done to punish Ovechkin for this hit.  Folks are already debating wildly whether or not Ovechkin hit Gleason knee-on-knee on purpose or not (he didn't, why would he bother?) and whether or not suspending a guy who plays the game at such a break-neck speed with ridiculous bullish aggression will do anything to "send a message" to him at all (it won't, Ovechkin is going to play that way regardless).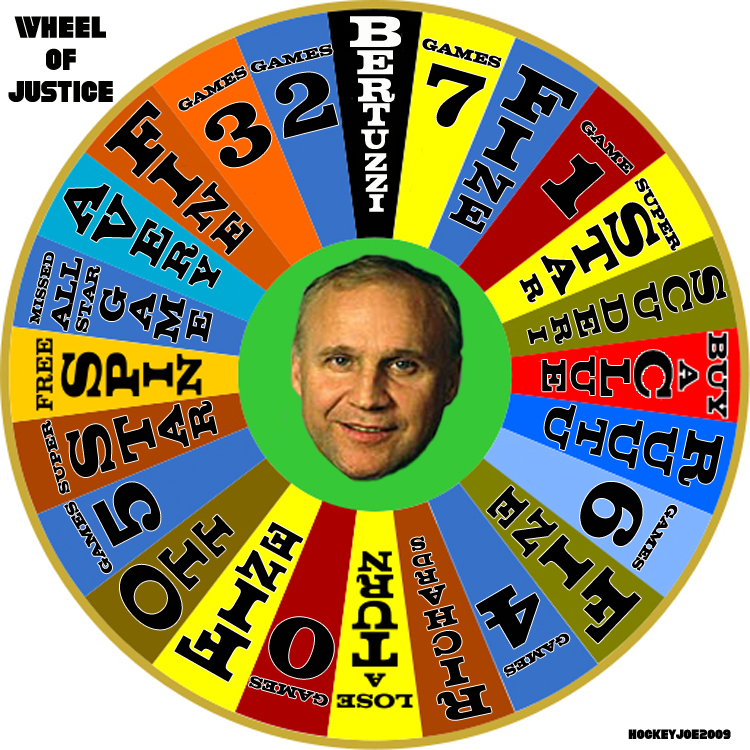 Will the Wheel of Justice come up Superstar again?
What this hit does remind me of is Ovechkin's run-in with Pittsburgh's Sergei Gonchar last season in the playoffs for which Ovechkin was not punished for.  It's the same brand of hit where Ovechkin doesn't deviate his course, the defender tries to make a move to get by but Ovechkin is moving too fast for them.  While that hit came during the heat of the playoffs, this time it comes fast on the heels of another hit that produced yet another game misconduct.
The league is in a tough spot because if they suspend him they'll get heat from ticket buyers in Washington and elsewhere the Caps play on the road in the coming week (Philadelphia, Tampa Bay, and Buffalo) and fans there will be upset they won't get to see him (well, maybe not Buffalo fans).
The other side of it is if he's injured for any amount of time, what good is a suspension to him anyhow?  Big deal, he's going to miss games anyhow so what good does tacking a game or two onto that do for sending the message that the league doesn't have a superstar bias.
What do I expect the league to do?  I expect that the NHL's version of Pat Sajak, Colin Campbell, will inquire as to what Alex Ovechkin's injury status is and then craft a response based around that.  Since Tim Gleason wasn't injured on the play (he came back to play in the game) that's not at issue here for the league, instead the aggressor is the one who is hurt.  Why do I suspect that will be the case?  The league is gutless and they want to save face.
That said, if Ovechkin is hit with a suspension (whether it's rendered toothless by an injury or not) there's a lot of people that will feel vindicated for one reason or another.  Whether it's because they believe in the "superstar bias" or they believe that Ovechkin is a reckless player whose had this coming to him for a while won't matter because they'll be happier than anything.  If there's no suspension however… The league's spin-meisters better be crafting up a beauty of a response because the pitchforks and torches are out already.