This post is about two weeks overdue at this point but such is life and my New Year's Resolution was to actually follow through on promises to recap things that I say I will recap when they happen.  Confused yet?  Good… I've got you right where I want you then.
The trip started off on 12/28/09 with an overnight stop in Buffalo to prepare us for the driving the next day to Detroit.  That evening, the entire gang of the Collar City Madmen hit Duff's Wings in Orchard Park, NY.  Given that location you can bet we were within shouting distance of Ralph Wilson Stadium and sure enough we rolled right past it on the way to Duff's on this snowy, blustery Buffalo night.  Hundreds of wings were consumed, a few beers were had and some bubble hockey was played.
That's right – bubble hockey.  For being a Buffalo-area sports-type place the whole restaurant was decked out in Bills, Sabres and Bandits jerseys.  There was a Danny Briere jersey turned so that his name wasn't showing to the people and there were a few more interesting autographed jerseys including one of Bills punter Brian Moorman.  Sure, he fits in well with the autographed Thurman Thomas jersey.
The highlight of the decor for our hockey-mad gang were the different NHL pennants hanging from the rafters (Hartford Whalers represented) and the pucks hanging around the wall.  Why was this important to notice?  Easy.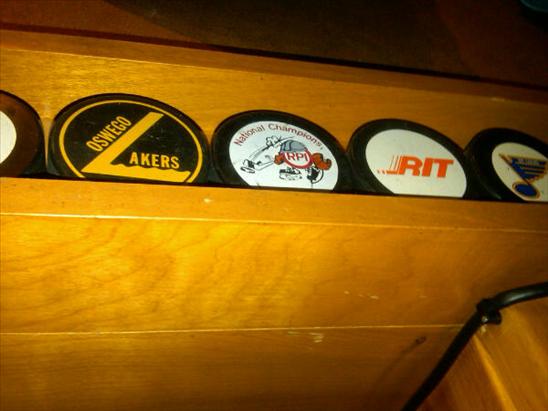 This is what we call a good omen.
Here over the doorway to the restrooms, were these pucks which on first glance the skating Puckman celebrating the 1985 National Championship was the shining beacon for everyone.  Of course after looking at this picture a day or two later I noticed the other part of this set up that told me this trip was going to be awesome:  The 1980s Oswego State puck RIGHT NEXT TO IT.
Fate was smiling upon our merry band for sure.
We packed up the cars and moved out of Buffalo to head across Canada to get to Detroit on 12/29/09 and I can say without a doubt that Canada is the much more farm-friendly version of upstate New York, driving wise.  When you ride along I-90 through New York the landscape is pretty dominated by trees whereas going across southern Ontario through Niagara wine country (including Wayne Gretzky Vineyards) there is very little in the way of trees to occupy any of the landscape and everything in the way of what I can only imagine what the Great Plains would look like.  Farms everywhere.
I noticed this in southern Quebec on the way to Montreal over the summer as well and it struck me as odd then too and to see the same thing going down the highway through cities like Hamilton, Brantford and London it threw me off.  It must be one of those comforts of home kind of things or the fact that upstate New York isn't quite as immediately farm-like as some folks would like you to believe.
On the way through Canada we hit a rest area, the only one along the way oddly enough, to grab some food and sure enough we spot folks who weren't part of our group there decked out in Rensselaer hockey gear.  Being the inquisitive folks that we are and the fact we were in the middle of Canada we had to find out who they were on the way to go see.  Turns out we ran into Brandon Pirri's parents.  They were a bit startled by our group and the fact that we were driving from the area out to Detroit to go see the team play.  In fact, if I was to get a chance to ask them I'm sure they'd say there were horrified by our fandom but that's neither here nor there.
I discovered that my timing at border crossings is quite outstanding as when our car came up to go back into the United States into Michigan, it was right after a shift change and, much like in July after the NHL Draft, we were the first car up for the new guard.  We hand over our passports and enhanced IDs and I say right now that my enhanced driver's license makes me look like a felon.  Flat out, I look insane.  Add to that I now have a bit of a beard going on and according to the border patrol agent, I looked older than what my license says. (aside: I look older than 30?  DAMN IT!).
Piling on with further confusion is that Tim has a shaved head now (he's got hair in his picture) and apparently Tim and Tyler looked like twins (…the hell?) it meant we got the once over and then over again by the agent.  Whatever, she did her job and considering every knucklehead in the last few days was trying to fly to Detroit with bombs… We can understand.  But honestly, four extremely pasty white guys with New York plates coming to Detroit, the chances were better that trouble would find us rather than us going to look for it.
As for the Great Lakes Invitational on 12/29 and 12/30 for us RPI fans, our entertainment came in the form of RPI beating Michigan 4-3 and getting some help from maybe some of the best and most loyal fans in all of college hockey:  Michigan Tech.  Their fans and some band members were eager to join up with us for the Michigan game and take part in our taunts and cheers and given how poorly Michigan Tech's season has gone (including a 10-1 thrashing at the hands of Michigan State in the other game that night) having them jump on the bandwagon for the night was probably as fun for them as it was for us to help send the very partisan Wolverine crowd home disappointed.
For what it's worth, Michigan's goaltending is abysmal.  Bryan Hogan may be the single worst goaltender I've watched in person since… Former Michigan goaltender Billy Sauer in the 2008 Frozen Four.  Michigan does have a talented squad but they must really hate themselves some Bryan Hogan because he can't stop anything thrown at the net.
For those of you who are Michigan haters, we came up with a few chants that really helped keep the crowd quiet so feel free to adopt them as your own.
"Worse Than Sauer"
"Where's Jack Campbell?"
There may have been only about 20-30 of us in our vocal section made up of the Collar City Madmen and other RPI folks as well as the MTU fans who joined in, but after RPI jumped ahead 3-1 after Paul Kerins' soft wrister found its way into the net, I can assure you that even a place as large as Joe Louis Arena that 30 people can be heard saying these things.  We confirmed this with some of the RPI players we spoke to at the 12/31/09 Red Wings game who said they got a good laugh out of our vocal antics.
Beautiful.
As for the GLI title game, well… Bryce Merriam looked nervous in warmups and he looked equally as nervous when the game started and RPI was in an almost instant 2-0 hole against a truly great Michigan State team.  I know that sounds like I'm huffing and puffing and dropping to my knees for the team that won the tournament (they defeated RPI 6-1) but after having seen how some past great teams have showed up in Troy to hand RPI their heads, this Michigan State team did the same thing (albeit with a home ice and officials advantage).
This team beat a good RPI squad and did so after fending off a flurry of threats in the middle of the second period and skated away relatively easily with the win.  The Spartans are very good. They're as dangerously good as the Miami team with Ryan Jones a couple seasons ago and Corey Tropp and Jeff Petry are two of the more dangerous players I've seen on the ice.  No, I wasn't being secretly snarky about Tropp – he's got a bit of a history, it's a shame that there's this incident as he's also a pretty good hockey player as well.  Jeff Petry was the guy who really impressed me though.  I'll confess to going into full-on man-crush mode.  What a friggin' player and just a dynamic defenseman for the Spartans.  I said this at the tournament and I'll say it here publicly because hey, why not?  Michigan State is a definitive contender to be at Ford Field.  They are very, very good and easily the best team I've watched this season.
As for the first of two NHL games we would take in, the Red Wings-Avalanche tilt on New Years Eve was special for me.  It was my first Red Wings game in Detroit and after calling Joe Louis Arena "home" the previous two nights, there's nothing that compares to the buzz inside an arena when the real home team is there and there's nearly 20,000 people packing the place out and this holds true for Detroit.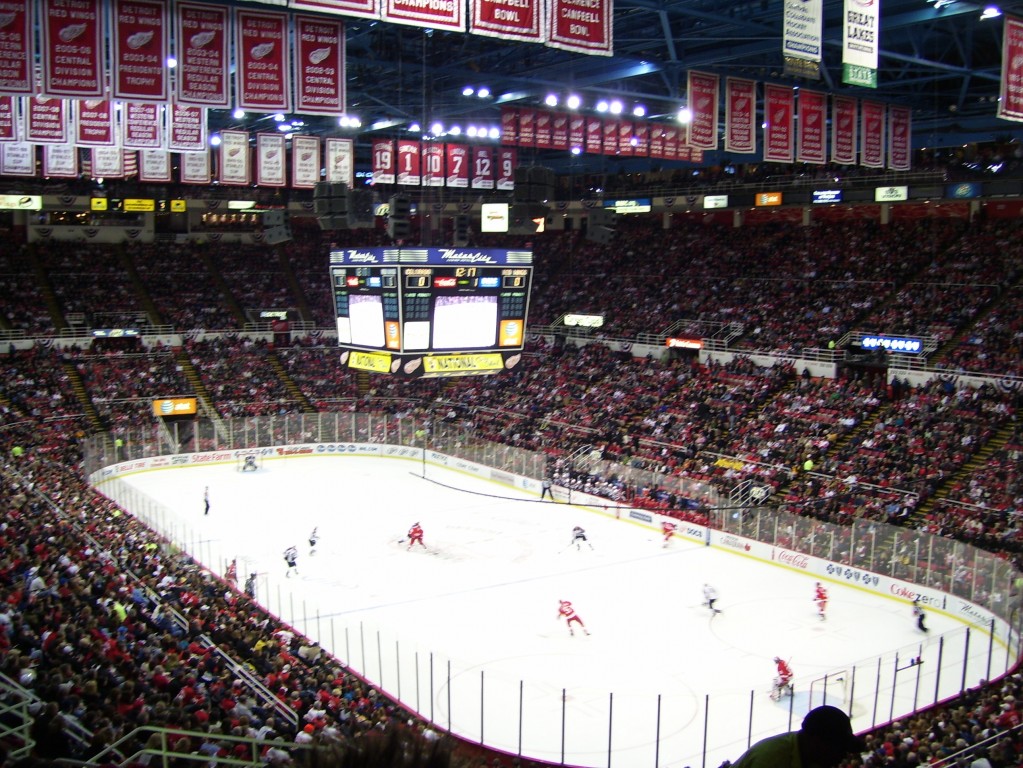 Not bad seats, right?
As for the game, truly spectacular from this Wings fan's perspective and a haunting one for the rest of our groups because, while some folks may not have been rooting for the Wings at all, they definitely weren't prepared to see former Boston University forward Brandon Yip on the ice for the Avs.  We all certainly weren't prepared to see Brandon Yip score two goals in our presence, that's for sure.
Thankfully for us, Darren Helm and former Maine Black Bear Jimmy Howard were the heroes of the day as Detroit went on to win the game 4-2. Helm had two goals (both shorthanded, one on an empty net) to seal it for the Wings and Jimmy Howard was college-like in his rock-solid play to  help us ring in 2010 on a very high note.  Here's a few more photos from Joe Louis Arena, feel free to click on them to help make them look bigger on your monitors, I made them smaller so as to make the page easier to load.
As for our New Year's Day jaunt back to Buffalo, the day's drive was interrupted by a lunchtime stop in London, Ontario to grab some food and catch the Winter Classic (well, two periods worth).  You'd think this would be easy to do given that it's a hockey event and we were in Canada so finding a place open that could hold eight or nine people and would have the game on would be easy to do.
Not so fast.  Being that it was indeed New Years Day we forget things like it being a holiday for most everyone, so our initial research into places in London that proclaimed lots of TVs and food proved to come up empty as hell.  Luckily we spotted a Boston Pizza restaurant that was open and was definitely showing the game.  Yeah… I know, city not known for their pizza proclaiming superiority – it's like getting a Los Angeles Cheesesteak or Chicago Wings – whatever we were in Canada so anything goes.  The wait staff was shocked to see so many of us and they were equally happy to bring us in because, hey, we're ignorant Americans and we're hungry.
The Winter Classic when broadcasted by CBC is a glorious wonder.  Jim Hughson doing play by play and no NBC masturbatory bullshit.  We were also spared from listening to the Dropkick Murphys during the pregame and we were already back in the car while Lenny Clarke murdered "Sweet Caroline."  Thank goodness for small miracles.
Upon reaching Buffalo, the temperature must've dropped about 30 degrees because it felt like we had landed on Hoth when we parked and walked up to HSBC Arena.  Ice cold, windy, awful… Ahh, Buffalo.  As for the game inside featuring the Sabres and Thrashers, well, it started off pretty bad for Buffalo as the Thrashers jumped out 3-0 in spite of Sabres goaltender Ryan Miller doing everything humanly possible to keep the team in the game.
Then the Thrashers stopped playing… And the Sabres figured out that they're leading the Northeast Division and they should play like it.  Back they come to tie the game at three and get it to overtime where down at the opposite end of the ice from where our awesome luxury suite was located, this happened:
Unreal.  Just a completely freaky goal but it sent us all home on a high note to end our Rust Belt Hockey Tour.  Of the games we attended and someone in the gang had a vested interest in one of the teams, our record was 3-1 with RPIs loss to Michigan State being the only (understandable) blemish.  Beating Michigan in Joe Louis Arena is the absolute highlight of the trip on a trip that didn't have any lowlights to speak of.
We enjoyed Detroit quite a bit (no, seriously) and found a bar that welcomed us as much as we enjoyed it.  We did a slight tour and checked out the sights that will be more popular in Detroit come Frozen Four time (Ford Field, Comerica Park, Hockeytown Cafe) as well as the more tourist-driven locations like Greektown and the General Motors building.  For the bad rap that Detroit gets in general, sure, some of it is earned and there are some really rough parts of town… But you're not going to those areas if you're going there for games or other events.  It's easy for me to say as I was never there on my own and making my way around town but I'd absolutely go back again.  Whether I go for the Frozen Four or not is up in the air as of yet, but I wouldn't have reservations about going back.
Surrounding such a trip with tons of hockey games though is a must-do.  Joe Louis Arena for being as old as it is compares similarly, to me, with the Carrier Dome in Syracuse as far as how the concourse is laid out and the amenities contained within it.  The inside bowl of the arena is spectacular as far as sight lines go.  For the GLI we were in the lower level along the goal line and it was a great place to be and the same can be said of our seats for the Wings game in the upper half 15 rows back in the 200 level.  We were in the corner but it didn't matter because the views were perfect and unhindered by anything and folks leaning forward in their seats wasn't much of an issue either.
It doesn't have all the fun bells and whistles a lot of the new arenas do and sure the concessions are a bit too expensive ($8.75 for a Miller Lite? Blow me.) but being able to duck off down to the Olympia Room to get away from the concourse is a good thing, even if that gets crowded too.  I say this with my Red Wings fan hat on that the place is great, but I understand why folks are clamoring for something new and reverential to the team's past.