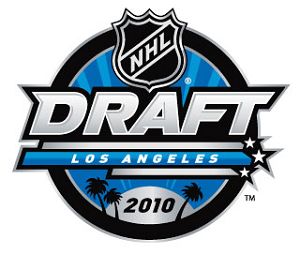 Are you ready for the NHL Draft?! Come on! GET EXCITED! There might be four or five guys that play in the NHL next season taken in the first round!
Yes, the NHL Draft is a different beast than the NFL and even the NBA drafts in that the vast majority of guys taken won't see any action in the NHL next year. Hell, most of them you won't be able to see unless you're an avid watcher of the CHL or NCAA hockey. Yeah, there'll be a handful of Europeans taken as well, some even play in the KHL but there's no one in North America really paying attention to that.
In the spirit of keeping up with the fun and games on the Internet I managed to come up with the world's worst mock draft ever conceived. When I wrote this up on Saturday night/Sunday morning for part of our thought process over at Pro Hockey Talk, I really didn't read up on a lot of these guys. As the week wore on I learned more about the players and the teams and what they need so I'm already really embarrassed by a few of these picks and that's while I'll share them with you as they are.  I'm here for the LOLZ after all.
I'll add my comments with the selections as well to help spice this up a bit for you. Just reading names is weak sauce, this isn't a police blotter after all. I already made it clear this wasn't like the NFL Draft.
1. Edmonton Oilers – Tyler Seguin – C – Plymouth (OHL)
Everyone else is saying that Hall will be the man here, and I like to live a contrarian lifestyle
2. Boston Bruins-  Taylor Hall – C – Windsor (OHL)
This is the guy the Bruins want to get and they'll get him because, apparently, the Oilers are dumb. Hint: You can't lose with either guy.
3. Florida Panthers – Cam Fowler – D – Windsor (OHL)
He's an American defenseman with all the skills. You could see any one of Fowler, Gudbranson or Gormley go here. It'll probably be Gudbranson just because I picked someone else.
4. Columbus Blue Jackets – Erik Gudbranson – D – Kingston (OHL)
Same deal here although there's an outside chance Columbus trades this pick for a veteran player and picks. Gudbranson is the guy they'd like to get.
5. New York Islanders – Brandon Gormley – D – Moncton (QMJHL)
Given how things are shaking out, I'll be stunned if the Isles stay at this spot. They could stand to get a scoring forward prospect but if they stay here Gormley or Connolly could be it.
6. Tampa Bay Lightning – Nino Niederreiter – LW – Portland (WHL)
His nickname is "El Nino" and he's Swiss. He could end up on the Lightning. Write your own nonsensical weather joke for this one.
7. Carolina Hurricanes – Brett Connolly – RW – Prince George (WHL)
He likely could've been a top 5 pick had he not suffered a tough leg injury. As it is, he'll have to settle for being just outside the top 5. Tough life. If he falls this far, Carolina will be thankful.
8. Atlanta Thrashers – Jeff Skinner – C – Kitchener (OHL)
He's a goal scoring freak although some folks worry about his skating speed. Given the numbers he put up in Kitchener this past season (64 games, 50 goals, 40 assists) it's really tough to argue. Atlanta will be happy to have him.
9. Minnesota Wild – Nick Bjugstad – C – Blaine HS (MN)
He was Minnesota's Mr. Hockey and the Wild could stand to do something good to make the home fans not want to start a lynch mob, especially after dealing last year's first round pick (Minnesota Golden Gopher Nick Leddy) to the Blackhawks for Cam Barker.
10. New York Rangers – Alex Burmistrov – C – Barrie (WHL)
The Rangers sure could use a skilled center in their system, couldn't they? If Burmistrov falls this far even Glen Sather can't screw this one up.
11. Dallas Stars – Derek Forbort – D – USA Under-18
This is almost a unanimous selection across all drafts and from what I've heard from folks on the inside (I do have SOME connections) Forbort is the guy they really want to get at 11. I figure they'll get their man.
12.  Anaheim Ducks – Austin Watson – RW – Peterborough (OHL)
So here's the first pick where I really screwed the pooch. The Ducks could stand to use some centers in their system. Badly. If Watson gets picked by Anaheim I'll fall on the floor. Twice.
13.  Phoenix Coyotes – Mikael Granlund – LW – Helsinki
The Coyotes love them some Scandinavian players (Sami Lepisto, Mikkel Boedker) and Granlund would help fill the team coffers at left wing. It also helps that the kid has some slick skills on offense. Done and done.
14.  St. Louis Blues – Emerson Etem – C – Medicine Hat (WHL)
He's a California kid and the fans will go nuts for him. The Blues could use some more solid talent up the middle and Etem is capable of fulfilling those hopes as he's impressed people quite a bit lately. The Blues would do well to get him.
15.  Boston Bruins – Dylan McIlrath – D – Moose Jaw (WHL)
So this pick now belongs to the Florida Panthers thanks to the Nathan Horton trade and if they take Gudbranson early, they're not taking a defenseman here. If they hang on to the pick at all that is. Rumors are swirling that they'll deal this pick to collect more goodies. Still McIlrath has an awesome name, is a huge physical defenseman and he played in Moose Jaw. What else could you possibly need?
16.  Ottawa Senators – Jack Campbell – G – USNTDP
He's America's hero in goal. He won the gold medal for the WJC team over Canada. That's good. He turned down a commitment to Michigan to play in the OHL. That's bad. Still, he's the best goalie in the draft and Ottawa could really use a prospect in goal at this point. Brian Elliott and Mike Brodeur won't be around forever, nor should they be.
17.  Colorado Avalanche – Jon Merrill – D – USNTDP
So the Avs could use some defensemen after hitting the jackpot on Matt Duchene and Ryan O'Reilly in last year's draft. Merrill's talent is outstanding but he's got a bit of an attitude problem. Locking him up for five minutes in the room with Adam Foote should straighten him out.
18.  Nashville Predators – Ryan Johansen – C – Portland (WHL)
If Johansen falls this far in the draft, I'll eat my hat. This was a total mistake on my part. Nashville, however, is praying that I am a psychic as Johansen is ranked behind Tyler Seguin as the best true center prospect in the draft (Taylor Hall is viewed more as a winger than not).
19.  Los Angeles Kings – Vladimir Tasarenko – RW – Novosibirsk
A very talented Russian winger playing in Los Angeles. Where have I heard this one before and is it something we'll see again during free agency? Alexander Frolov has had a nice career in LA and perhaps Ilya Kovalchuk could be headed there next. Tasarenko, however, is KHL committed so a team picking him has to be content to wait a bit before having him, maybe, come to the NHL.
20.  Pitttsburgh Penguins – Quinton Howden – LW – Moose Jaw (WHL)
A quick, two-way winger that can score goals. The question is: What could the Penguins really make great use of while they've got Sidney Crosby and Evgeni Malkin? Well then, glad I settled that. The Pens could go for a winger or defense at this pick here though. Going defenseman wouldn't be shocking in any way at all. In other words, I probably punted this choice.
21.  Detroit Red Wings – Tyler Pitlick – C – MSU-Mankato (NCAA)
All right, so he's listed as being a Mankato State player as that's where he was this past season. Truth is, he's headed to the WHL next year to "better prepare for the rigors of professional hockey."  What the fuck ever, Tyler.  Still, kid is talented. He's probably not getting picked by Detroit though. Oops to me.
22.  Phoenix Coyotes – Mark Pysyk – D – Edmonton (WHL)
He's a steady two-way defenseman. Nothing mind-blowing, but also doesn't have many deficiencies. Sounds perfect for the Coyotes system doesn't it? I thought so too. Obvious pick is obvious.
23.  Buffalo Sabres – Riley Sheahan – C – Notre Dame (NCAA)
Given how other things are likely to shake out, I can't see Sheahan lasting this long but in my pool of madness, the Fighting Irish forward will get to do his thing someday for the Sabres and he'd make for a nice fit there.
24.  Atlanta Thrashers – Jarred Tinordi – D – USNTDP
This pick now belongs to the Chicago Blackhawks thanks to the Dustin Byfuglien trade. He's big, he's bruising, he's former NHL defenseman Mark Tinordi's son and he'll (likely) be playing at Notre Dame next season. If he's anything like his old man, he'll have a long and serviceable career. Fun side note: His brother Matt is going to be a freshman at RPI this year so expect to hear about him here.
25.  Vancouver Canucks – Brock Nelson – C – Warroad HS (MN)
Consider this one a failure on my part. The Canucks are more than likely aiming for a defenseman here, but Brock Nelson, who is headed to the University of North Dakota next season, is a big and bad mofo. 6'3″ 205 and he's 17. Yikes. He's been moving up on draft boards of late so if he does end up being this far down in the first I'll be surprised. Also, how great is the name Brock Nelson? It's a modern day Big McLargehuge.
26.  Washington Capitals – John McFarland – LW – Sudbury (OHL)
The Caps have a wealth of riches and adding fast winger with a nice wrist shot that occasionally fights sounds ideal for a team that lacks that kind of edge up front. The Caps can draft a guy like this and be content to have him develop as their minor leagues are rather full at the moment. Nice problem to have.
27.  Montreal Canadiens – Jaden Schwartz – C – Tri-City (USHL)
He was the USHL's leading scorer and he's 5'10″ so he doesn't break the Habs' height barrier for forwards. It's a match made in Munchkin Land. Also, he's committed to playing at Colorado College next year. He's already won me over for wanting to play in college.
28.  San Jose Sharks – Calvin Pickard – G – Seattle (WHL)
The Sharks don't need a whole lot of stuff in their organization but goaltending is a severe deficiency throughout and Pickard is one of the best you can get. Seems like a no-brainer to me but Doug Wilson is one shifty mofo as a GM.
29.  Anaheim Ducks – Beau Bennett – RW – Penticton (BCHL)
You don't really see a lot of BCHL kids go so early but Bennett is pretty impressive and moving up lists late. He's also another California kid so expect a huge ovation should he fall to the Ducks… Which he may not do as the Kings could be a landing spot for him earlier in the round.
30.  Chicago Blackhawks – Evgeny Kuznetsov – C – Chelyabinsk
What does a team that just won the Stanley Cup need more of? Great talent. Kuznetsov won't be in North America this year but word from Yahoo's Dmitri Chesnokov is that he's set to come to North America next year to compete for a job be it in the NHL or AHL. That's the right attitude to have as it seems there's a great fear of Russians throughout the draft worried that they'll stay in Russia and never come over. Jeez guys, didn't the wall come down 20 years ago? Let's chill out.