After two years of trying to fight the good fight, Alabama-Huntsville hockey will be no more after this season.
Oh sure, interim school president and Alabama education hitman Malcolm Stopera will say that moving UAH hockey from Division I down to club level isn't a big deal because there'll still be hockey at UAH in some form, but this a needless killing and one that leaves a lot of blood on a lot of different hands in the college hockey world. The Alabama education system can justify their decision citing costs all they want to, but college hockey on the whole should feel sick about this as should the UAH leadership.
This wasn't just one new conference coming to rise and writing UAH's death warrant, this was a total failure on the part of college hockey world to help out a weakened brother. This is the fault of a hired gun brought into the UAH leadership to make the big decision and get the hell out of town as fast as possible.
This was a hired hit and one that the leaders of the CCHA, WCHA, NCHC, and Big 10 all helped bring about.
The CCHA's failure to throw UAH a bone years ago when they added now-soon-to-depart Nebraska-Omaha to the conference was the first, and most deadly, shot across the bow for the Chargers. Tom Anastos and his group of ignorant conference leaders, who got their own come-uppances when the Big 10 Conference was formed, helped provide the example of how to ruin a school's program. By leaving UAH to be independents, a team without a conference to call home, they left them to perish.
Here's to hoping that Anastos, now the Michigan State head coach, can live with his decision. Of course, he comes out smelling like a dead rose through all of this mess after ditching the CCHA to coach Sparty who is conveniently ditching the CCHA themselves for the Big 10. Convenient, eh?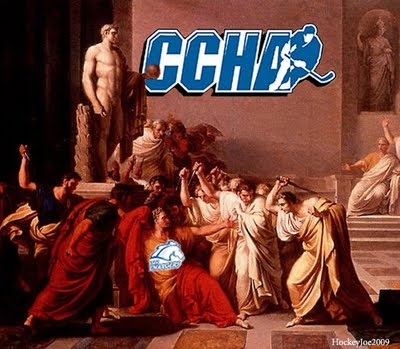 The conference realignment jumble, confusing in its own right in seeing the WCHA and CCHA try to save face after the Big 10 was formed and then seeing their own plans shot to pieces when the NCHC was created putting a final bullet in the CCHA and turning the WCHA into a conference filled with also-rans. Neither the NCHC nor the soon-to-be brand new WCHA even cast a glance toward UAH for membership.
Rather than help out UAH, the NCHC waited to see if Notre Dame would join their elitist hockey party only to be spurned in favor of Hockey East. An Irish middle finger is a middle finger nonetheless. The WCHA took on fellow death bed program Bowling Green in their scramble to put something that resembled a conference together. Did they call UAH though? No friggin' way.
Instead, they ignored UAH. They let them sit around as an independent left to wither away and die without the help of a conference to call home and a conference schedule to give them a host of home dates. Take a look at UAH's schedule for this, their now final season. The last games they play in Huntsville are in late February against the US National Development Team. Games like that are an exhibition meant to show the school off to guys they could potentially recruit.
Oops.
Instead, they're going out at home with a whimper after a schedule that sees them play on the road in games they had to beg and plead for to play anyhow. This is what the college hockey landscape turned into – one that saw schools turn on each other to save their own skin and left the weakest of the litter out to starve.
Now these Chargers are being put down while a bunch of different hands are pushing off pulling the trigger on everyone else.
It's sad. It's sad and disgusting to see things play out this way for the south's lone outpost for college hockey; A program that rose up from the lower levels of college hockey to become the little school in Dixie that could. They've made the NCAA Tournament, they've put the scare into top seeds (just ask Notre Dame about what they think of UAH).
Community and student support (both in showing up and financially) didn't matter to the state of Alabama. All this was for them was a bottom line move, a correction of the books. College hockey, meanwhile, looks the other way while another one of their own dies. A family of 58 is now a family of 57 and there won't be a single team that will care. The fans of college hockey all care and they'll make it known at the Frozen Four in Tampa, Florida in April. It's a bitter pill to swallow that it's UAH playing the role of the host school, holding the celebration for the crowning of a new champion.
A disgusting end to UAH's Division-I status concludes with a party on their grave.  While I doubt that Portera gives half a crap about his choice to demote the program, I wonder if the heads of these conferences that all had a hand in this slow killing can accept losing a team in an outpost where hockey is growing in a sport that needs a higher profile, not one that sees it let its hurting brothers die.